This post was created in partnership with Fellowes. All opinions are my own.
Do you have that box in your office or house?  You know the box.  The one that you put all of those bank statements and health insurance statements.  And anything else you don't feel comfortable throwing in the trash.  You put it in the box until….when?  For us, we put it off until winter when we burn little bits at a time in our fire pit in the backyard.  But our box doesn't just have paper…it has DVD's, CD's, and expired debit cards.
I've tried cutting up debit cards but I'm still too paranoid to place them in the trash.  So I place them in the box too.  I have DVDs with tons of backup data that is old and outdated.  But that doesn't mean I want anyone looking at it.  So I place that in the box also.
The solution to the problem of "the box"?? A good crosscut shredder.  So when I was sent a Fellowes 73Ci to review, I was very excited to see how it would perform.  So here is my review of the Fellowes 73Ci.
The Fellowes 73Ci Shredder
Setup was very simple.   The shredder is very easy to get going.  The Fellowes 73Ci includes wheels and a removable bin.   Once those are installed I simply added one of the included bags onto the removable bin.  I added a bit of the included oil to ensure the shredder stays in good working condition.  Fellowes recommends that you add the oil each time you change the bag.
The 73Ci features touch screen controls and includes a power button which is front and center…not around back where you have to fumble around to find it.   Fellowes has included the patented Safe Sense Technology which stops the shredder when it senses your hand in the paper opening.  That's kind of important because I'm thinking that might hurt a bit.  While not a super high capacity shredder, it can shred for 10 minutes before needing a 20 minute cool down.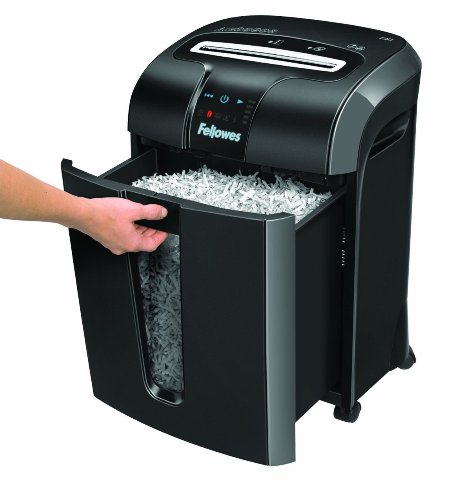 Does it Work?
To test the Fellowes 73Ci, I ran several sheets of paper through at a time.  I started with a single sheet and went up to 12 sheets.  The shredder had no trouble whatsoever.  I checked out the results in the bin and saw the destruction was sufficient to ensure no one could easily reassemble my papers.
Next I took an old debit card and ran it through.  The Fellowes 73Ci shredder ate it like it was a piece of buttered bread.  The card was obliterated.  I am very comfortable running old cards through the shredder now.  The last test was something I was skeptical about.  A DVD/CD disk.    I have several DVD's which contain old backup files that are outdated and of no use.  I generally just keep those in a dusty stack on my shelf once they are of no use.  Now that I have the Fellowes 73Ci, I decided to try disposing of them with the shredder.  I placed a single disc in the shredder and it ate it very easily.  The disc was reduced to confetti and I was very ecstatic.
The Conclusion
I was provided with the shredder for free.  But after my tests with the Fellowes 73Ci, I consider it a shredder that I would purchase for my home office.  The ability to shred several sheets of paper at once, debit cards, and optical media makes it a great value.  I love the crosscut shredding also.  This makes the shredder truly secure by turning your documents into small bits of paper instead of long strips which are easily reassembled.
Infographic
Check out this infographic from @FellowesInc which gives you more info on selecting a shredder