I've been waiting for Verizon to announce their shared data plans for a while now.  I was hoping that it would be something simple like 4GB for $50/month.  Currently my wife and I both have smartphones and pay $30/month each.  I have unlimited data and she has 4GB.  That plan would save us $10/month.  Well, guess what, Verizon came out with a completely different plan.
Verizon has done away with the old tiered voice plans in favor or unlimited voice and text plus shared data.  Under the new system, you pay a set fee for the type of device plus another fee for the amount of data.   See the chart below: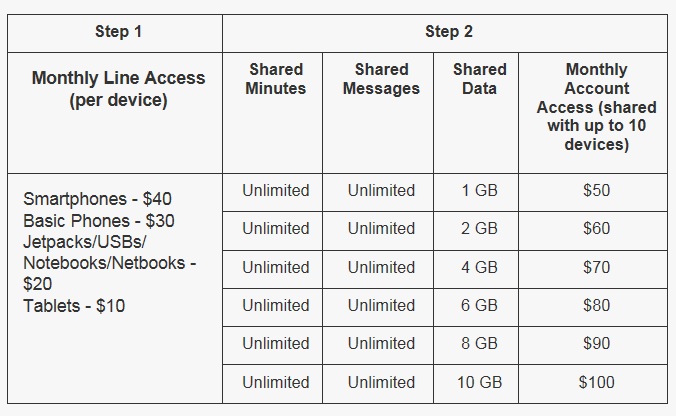 So let's look at my particular scenario.  We have 2 smartphones ($80) and one basic phone for my mother-in-law ($30) and we want to have at least 4GB of data ($70).  That makes our bill $180 before any taxes or fees.
But here is what we currently pay:  700 minute family plan ($70 for first 2 lines) then a third line for mother-in-law ($10) plus 2 data packages ($60).  That's $140 before taxes and fees.
Now, we have a corporate discount through my employer so that saves us around $18 a month.   I'm still not sure how that will be enacted with the new plans.  So just comparing the base costs we see that my family will pay $40 more with the new plan.
Of course, my family is not the norm in all respects.  First, we don't use a lot of minutes because most of our family is on Verizon and it's included.  We also don't text…we actually have texting blocking on our lines (yes, we're weird).  If texting were important to us or we used a lot of minutes, then the new plans would be a better deal.
Let's look at single people.  Currently a user with a smartphone, 450 minutes, unlimited texting, and 2GB of data would pay $90 a month before taxes and fees.  Under the new plan, they would get unlimited minutes and texting and 1GB of data for $90 a month.  Same price…less data.
But, what about business customers?  Well here is where it gets interesting.  Let's say you have 10 employees with smartphones ($400) and want to share 10GB of data ($100).  That's $500 or $50 per person for unlimited talk and text and 1oGB of shared data.  That's a pretty good deal.  The cool thing is that you can use bandwidth management apps on each phone to limit each user to 1GB per month so that one user watching Netflix doesn't eat up all of your data.
There you have it, some win, some lose with the new plan.  But one important point to make is that existing customers do not have to go to the new plans (yet).  As for me, we'll be keeping our existing plan and I'm going to upgrade my phone now so that I can keep my unlimited data.
Related articles