You've seen them…they drive minivans with little magnets on the back.  They have camp chairs…but they don't camp.  They have rolling coolers with juice boxes and water bottles.  They have granola bars and tiny bags of chips.  Who are these strange people?  They are soccer parents…and now I'm one of them.  I never thought I'd join the throngs of enthusiastic parents cheering on kids soccer like it's an MLS game (or match…whatever it's called).  You see, I'm a football or basketball guy.  I played basketball in high school and football in middle school.  I played baseball from age 5 to 13.  I never played soccer.  So this is all new territory to me.
The first thing I noticed about kids soccer…especially U6 (which is 4 and 5 year olds) is that it's basically organized chaos and sometimes it's not even organized.  This is my son's first year playing and his coach is a high school kid.   He's a good kid but he speaks very softly.  I am a dad and I can't imaging trying to reign in eight 4 and 5 year olds.    He does a pretty good job but sometimes I'm sitting there thinking "you need to raise your voice to get these wild children under control".  Let's just say that he has a lot more patience than I do.  There are two kids on the team who routinely run around in circles chasing each other as the coach tries to talk to the team….even during games.  I look at the parents and think…"Don't you see your child???".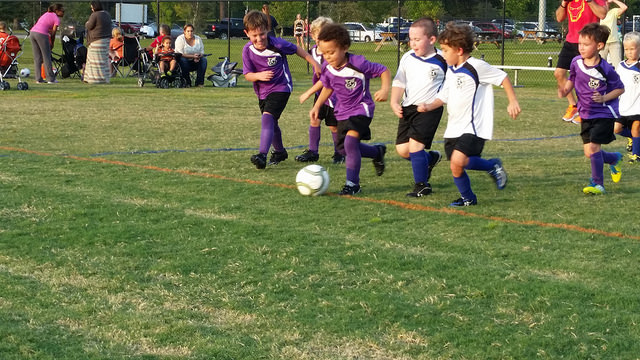 Now, I'll admit that they are getting better.  They actually scored three goals in the last game.  They have a hard time playing as a team.  They pretty much just kick the ball down the field and then run after it.  I have to brag on my son…he actually had a breakaway during the last game and could have scored…but he actually passed it to a teammate who then scored.  I took that opportunity to teach him that it's important to be a good teammate and it doesn't really matter who scores as long as its your team.
Since this is U6 there are no referees or goal keepers.  That's understandable…but they don't keep score either.  I'm not a big fan of that.  I know this is not a popular opinion but I feel one of the main benefits of team sports competition.  Being competitive (not overly) is a good thing.  It's how we learn to work hard for what we want in life.   I learned early on that if my team lost I didn't like it.  So, I practiced more and tried to get better.  I feel that the generation that has come up since we stopped keeping score has lost that competitive edge.  They (in general) want things handed to them.  They don't want to work harder and get better to earn it.
You may say that I'm putting too much emphasis on a U6 soccer experience but I don't think so.  We learn these things early in life and it's important that we teach our children that hard work equals success.
So my family is on the snack schedule for the game this week.  I think Mountain Dew and Swiss Cake Rolls would be a great choice and the parents are sure to love us if we do that…don't you think?  Anyway, I gotta go get the cooler ready and pack up my camp chairs and lay out the cleats and shin guards and fill the water bottles…the work of a parent of kids soccer is never done.