How many times have you changed phones?   Personally I have changed phones many times and my wife goes through phones like she'll get a reward for using more than anyone else.  One problem when changing phones is transferring all of your data over to your new phone.  Today I'm looking at Wondershare MobileTrans for Windows.  MobileTrans lets you transfer your contacts, apps, photos, music, call logs, videos, and text messages from you old phone to your new phone.
MobileTrans allows you to transfer to/from Android, iPhone, and Symbian devices.  You simply connect your two phones, select what to transfer, and then click "Start Copy".  What you can copy depends on the source and destination platforms.
Android To Android

Contacts
Messages
Photos
Call Logs
Music
Videos
Apps

iOS To Android

Contacts
Messages
Photos
Music
Videos

Symbian to Android

Contacts
Messages
Photos
Music
Videos

Android, Symbian, iOS to iOS

Contacts
Messages
Photos
Music
Videos

Android, iOS, Symbian to Symbian
MobileTrans Features and Functions
Transfer content between different platforms (Android, iOS, Symbian) – This is great when you change from one platform to another.  Such as going from an iPhone to Android.
Transfer between different carriers (AT&T, Verizon, T-Mobile, Sprint, etc) – Once again, this means you don't have to pay your carrier to transfer your files.
Supports over 2000 phone models including Apple, Nokia, Samsung, etc – With so many models supported it's very likely that yours is in the list.
Once Click Transfer – It couldn't be easier, select your options and click the button..done!
No loss of quality – Your files are transferred exactly as is.
Risk Free – nothing changes on source phone
Contact copy copies job title, email addresses, and much more. – Very necessary when you consider how much information you may keep on your contacts.  This is essential for me.
My MobileTrans Test Drive
So I have two phones here.  My old Android and my current Android.  I'm going to try and transfer everything over to the old phone as a test.  I plugged in both phones and started MobileTrans.  MobileTrans installed drivers for both phones and reminded me to enable USB Debugging on the old phone.   MobileTrans then scanned my current phone (source phone) and listed how many of each item was on the device.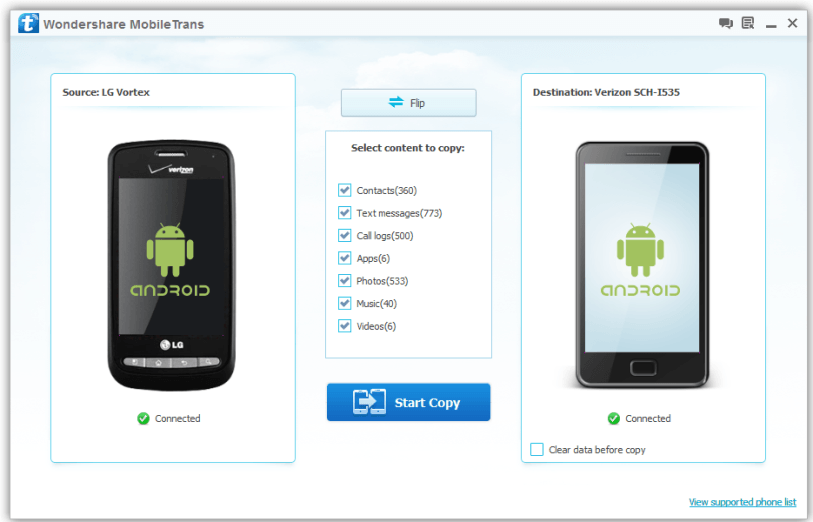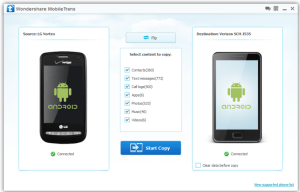 Once I clicked "Start Copy" a transfer progress window comes up and shows what it is transferring and you can see what is left.  The entire process took a grand total of 1o minutes start to finish.  I was going from Android to Android but I imagine the process would have bene virtually the same with different platforms.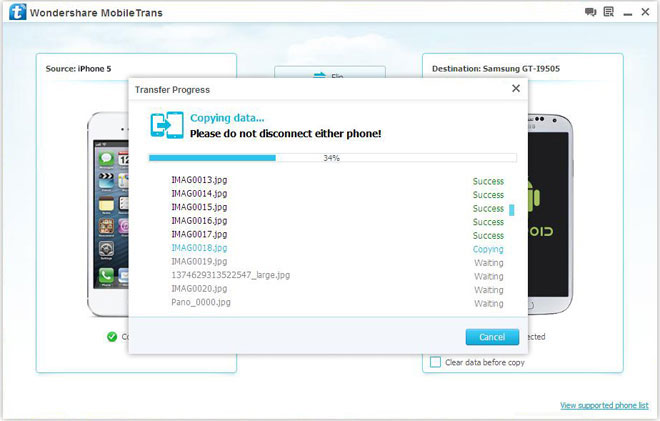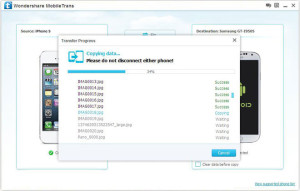 I was a little skeptical before I tried MobileTrans.  Many companies claim to offer easy transfer between different platforms and carriers.  But many of them fall short.  MobileTrans worked great and I will certainly be holding onto it for our next upgrades coming this year.