Where do you get your apps?  If you are an iOS user there is pretty much one answer…from the iTunes app store.  But if you are on Android there are several great options.  You have the default Google Play Store, which is good but you have to deal with music, movies, and books also.  But if you're looking strictly for Android apps and games then you might want to try 1Mobile Market.
1Mobile is an alternative Android marketplace and 1Mobile Market is their Android app.  I decided to take a look at the 1Mobile Market app and give it a try.
You download the 1Mobile Market app directly from their site in the form of an apk file.  This means that you must enable unknown sources in your settings.  This isn't a big deal for me since I already had it enabled.
Once installed you are presented with a very clean and organized interface.   You can browse apps by category, featured apps, top apps, and new apps.   The app is very fast and I had no lag whatsoever.  I was able to download and install several apps with ease.  One cool feature I noticed was that several apps included a free promo code specific to 1Mobile that gave you free in app perks.  This was very nice and I used it on a couple of apps.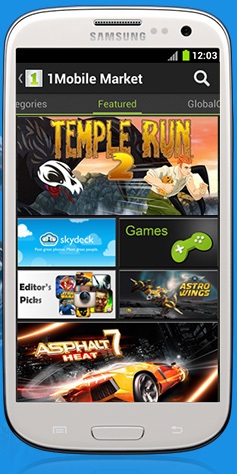 1Mobile Market Features
Over 500,000 free android apps direct downloads
1Mobile Market is a collection of more than 500,000 free android apps direct downloads, with more exciting, practical and unique apps added everyday.
Unique and original contents
The professional editorial team have curated the latest and hottest apps through specialist in-depth approach and recommendations that count.
Language and content support for 13 languages.
In accordance with different languages a more unique and accurate Android app download experience has been provided.
Larger Screen, Easy Browsing
Support android Tablet PC use. When you browsing tablet client is very smooth, the picture is clearer.
I am generally a little leery when it comes to alternative apps stores because you don't know what you are getting into.  But 1Mobile seems to have some high quality apps and I didn't see anything that raised a red flag for me.
On each app page there is a related apps section and this worked really well.  It helped me find a few similar apps to try out for my next review.