I think anyone who reads my posts knows that I tend to cater to consultants and freelancers.  The reason for this is that I created this site because, as a consultant, I had trouble finding apps that helped me with my business.  One topic that I was always looking into was Android Time Tracking apps.  For the consultant, tracking your time is an essential task if you wish to get paid.    You can't really just guess how many hours to bill a client.  It isn't fair to you and it certainly isn't fair to the client.
So today I'm looking at 3 Android Time Tracking apps that can help you ensure you get paid for all of your hard work.  I have tried to include apps that you may not have heard of and are worthy of a look.
Android Time Card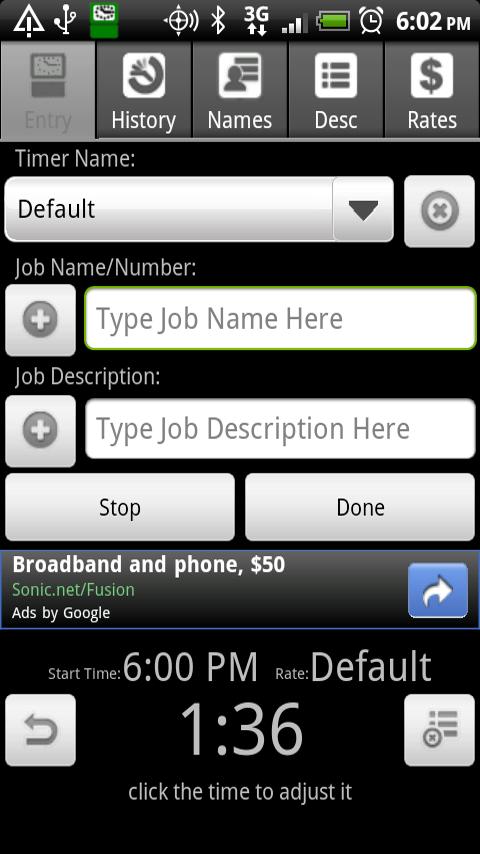 Android Time Tracker is a nice Android Time Tracking app for those who just want to track their time and don't need a lot of bells and whistles.   You enter a job name and description then start the timer.  You can also manually enter the time.  When done you can email your timesheet to yourself or your supervisor.
Features:
Install to SD

Multiple Timers!
Languages
Import names/descriptions
Widget
Mileage
Earnings
Notes
Get Android Time Tracker on the Google Play Store
My Work Clock
Here is another very basic Android Time Tracking app.  My Work Clock is a simple punch in punch out app that lets you track when you worked.  This is better suited for an employee who needs to track their time for a time sheet as opposed to a consultant who is worried about billable time.  But don't let the simplicity fool you…it's a solid app that has some nice features.
Features:
Overtime Support

Multiple Jobs Support
Calendar Update (One Way Sync)
Clock in/Clock out directly from widget
Quick day, week, month information
Simple Reports
Send via email as CSV
Add/Remove/Edit Records
Multiple Reports
Get My Work Clock on Google Play
 TimeClock – Time Tracker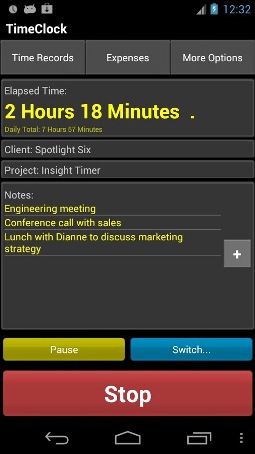 Here we have an Android Time Tracking app that is geared specifically for consultants, freelancers, attorneys, or anyone else who needs to track billable time and expenses.    TimeClock lets you organize your entries by client and project.  You can track your expenses and billable hours.  The nice thing about this app is that you can then export your data as spreadsheets and even generate invoices.  Check out the partial feature list below.
 Export directly to Dropbox or Google Drive (Google Docs) – or send your export file via email.
Export your data as a spreadsheet (CSV) or as "human readable" HTML.
 Track hours for as many clients as you wish
Hourly rate for each client
Billing increments for each client from one minute to one hour
Flat fee activities supported
Track time as you work by clocking in and out or enter manually
Note entry
Track Expenses
Predefined expenses for recurring items
Track Mileage Expenses
MUCH MORE
Check out TimeClock on Google Play