Since the days of the Palm Pilot, we have used our mobile devices for productivity and specifically for keeping our calendars.  Today we have many options in Android, iOS, Blackberry, and Windows Phone calendar apps. There is no reason to settle for one…why not try them all and see which one you like best.
Today I'm looking at 3 Windows Phone Calendar Apps for you to try out.  They each have their strong and weak points to consider.
1. Calendar Pro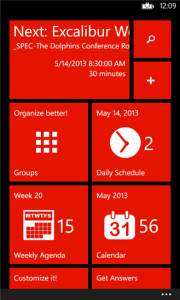 Calendar Pro is a Windows Phone Calendar app that features daily, weekly, and monthly views.  It also gives you the ability to pin appointments to the start screen.  Also has search and filter based grouping.
Features
Tap in month view to see appointments details below

Filter based Groups and Quick search with auto complete
Tap+Hold Reply/ReplyAll or forward an appointment from any screen.
Ease of use
Windows Phone Marketplace Link
2. Live Calendar
Live Calendar allows you to place a live tile on the start screen.  This tile is updated automatically in the background.
Features
Display week numbers on the calendar
Display Windows Live events by day tap
Language depends on region settings
Create live tile with one tap
Windows Phone Marketplace Link
3. Week View 8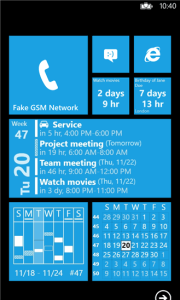 Week View 8 is a customized version of Week View for Windows Phone 8 and features a large live tile that shows the next 4 upcoming appointments.  Another nice feature is speech recognition.
Features
The appointments of the current week

Multiple, configurable Live Tiles
A detailed view of the events of a day
A month view with readable appointments
An annual overview
Native support for the HD resolution of your Windows Phone 8
Creating appointments is possible directly in Week View 8 in all your windows phone calendars
Windows Phone Marketplace Link
Of the three Windows Phone calendar apps here I have to say that I prefer Week View 8.  It appears to be a more complete app and more suitable for business use.