I have a pretty busy life.  I have a wonderful wife and 3 great kids.  My life with them keeps me going.  I also have a full time job that I work.  Then there's my consulting business which keeps me up many nights.  So I have a lot to keep me busy.  Lastly, there's this blog.  I have to write posts for the site and then post to the Facebook page, Twitter account, and Google + page.  It is a lot to remember.
I was having a conversation with a coworker the other day (who is also a blogger) and we were discussing how to automate our social media posting so that we wouldn't have to remember to do it each time.  There are several different plugins out there that do it for various networks.  But I haven't found one that did everything I needed.
As I was searching, I found a blog post listing several useful tools for bloggers.   One of those tools caught my eye.  Coschedule is a WordPress editorial calendar that lets you drag and drop your posts in a calendar view.  Coschedule goes beyond WordPress posts by letting you schedule your social media posts at the same time.  You can even drag and drop those as well.
Now, as I looked at this I thought…that's pretty cool but will it really help me a) blog more or b)spend less time on my blog.  The answer is both.  I've been using it for less than a week and I've already published more posts and social media messages.
Easy Install
Setting up Coschedule was a cinch.  I entered my information at the Coschedule website and Coschedule actually auto installed the plugin on my site.  The entire process took less than 2 minutes.
Creating the Post
I started by creating a post on the Coschedule site.  You can do it this way or on your blog dashboard.  I simply gave the blog a title, chose an author (useful for multi author blogs), select the category, and then set the date/time that you want to post.  Coschedule then creates the post at draft on your blog.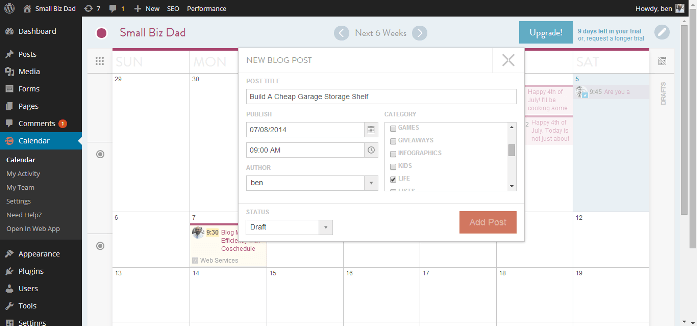 Now I go to my blog dashboard and edit the draft post that Coschedule created.   After I write the post is where the really cool part happens (at least in my opinion).  I am able to schedule my social posts directly from my edit post window.  I can schedule Twitter, Facebook Page, Google +, Pinterest, and Tumblr posts.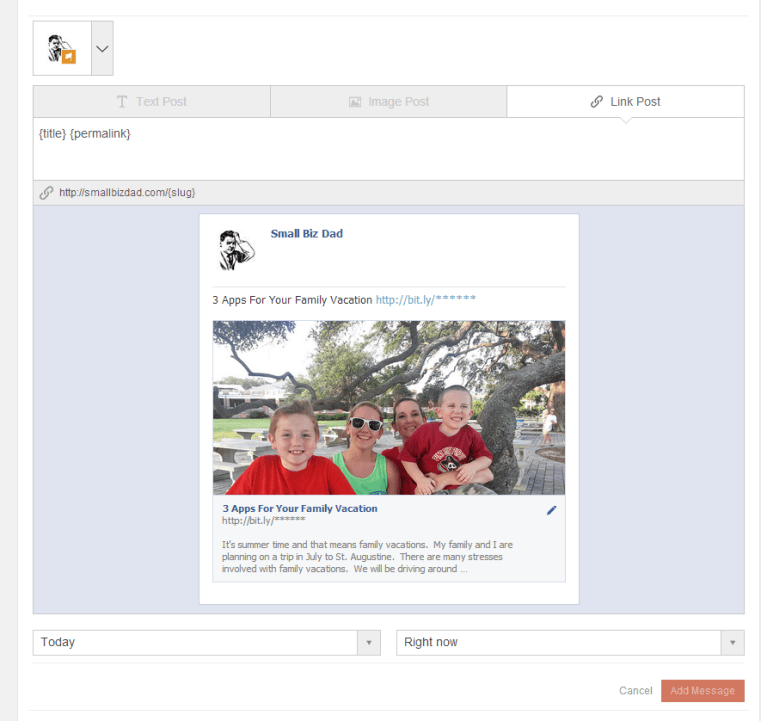 I scheduled all of my social posts and even scheduled multiple Tweets for several days/weeks later.  This is a huge benefit to your traffic.  You can schedule a post to Tweet the day it goes live, a few days later, a few weeks later, and even a few months later all at once and see it visually on the calendar.
That brings me to another cool feature of Coschedule.  You can drag and drop your posts and social messages in calendar view.  And your social messages move relative to your blog post.  So if I have a post scheduled for tomorrow with various social messages schedule for 1,3,5 hours later, then I drag the post to the next day….the social messages move also.
You can also see some social analytics when you click on a post in the Coschedule calendar view.  It will show you how many times your post has been shared.
Integrations
Coschedule has some very useful integrations.
Bitly – Integrating Coschedule with bitly means that Coschedule will automatically shorten urls when posting social messages.  The added benefit is the analytics you get with Bitly.
Google Analytics Tracking – Coschedule appends Google Analytics tracking data to each link which allows you to track your Coschedule shares in the Campaigns folder of your GA account.
Custom Analytics Tracking – If you use a different analytics tracker you can add your own custom query strings to each link so you can track later.
Google Calendar – The adds your blog posts and social media shares to your Google Calendar so you can stay up on things and never miss a deadline.
Teams
This is an area where I don't really need Coschedule since I'm a one man show.  But if I ever decide to take on some other authors then I'm all set with Coschedule.  When creating a new blog post you can specify the author.  This means that I could add a post give it a title and then assign it to a writer.  Coschedule also features the ability to add notes to the post and tasks within the Coschedule dialog.  This means that I can assign the post and give the author my notes on the topic.  I can also set up tasks to complete to help them (or myself) get the post done.
Let's Sum It All Up
I cannot possibly overstate how useful Coschedule is for me.   I find that I'm blogging and sharing more but I'm spending less time doing it.  It's a very nice feeling to know that once my post is done my social messages are all set up and I don't have to worry about it again.  This helps me with my busy life to stay on top of things.
Since I've been using Coschedule I've been going back to my old posts on the calendar view and posting social messages.  The ease at which you can post these messages adds tremendous value to the plugin.
Coschedule costs $10/month and is well worth that for the time it saves you.  There is also an option to pay yearly and save $20.
Try Coschedule for 14 days for free (no credit card required)