Raising kids is the hardest job in the world.  I mean, it's harder than doing a spacewalk outside of the international space station while a meteor storm is flying past you….with an angry beaver in your space suit.  Well maybe I am being a bit humorous here but you get my point.  Being a parent is the most important job you can do and it can be the most rewarding.  Today I am reviewing a book titled Never Say No – Raising Big Picture Kids by Mark and Jan Foreman.  I was drawn to this book primarily because the authors are the parents of Jon and Tim Foreman of the Christian band Switchfoot.  I'm a big fan of Switchfoot so I was intrigued.
About The Authors
Mark and Jan Foreman are the parents of two members of the band Switchfoot.  Mark is the lead Pastor of North Coast Calvary Chapel in the Sand Diego area.  Mark has degrees in theology and education as well as a PhD in Counseling and Pastoral Care.  Jan is a teacher and artist.  She has a passion for working with underprivileged women and children locally and in developing countries.  Mark and Jan enjoy surfing, traveling, and sailing.
About The Book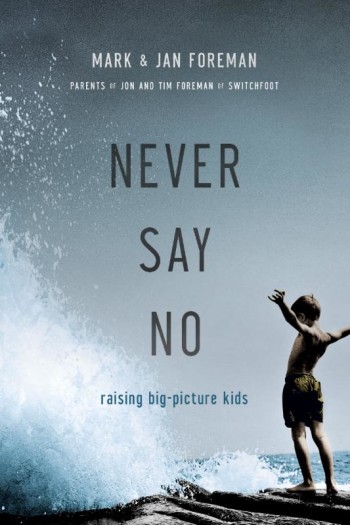 Mark and Jan explain how they developed their own parenting style instead of copying what their parents had done.  Developing your own parenting style means that you need a have a clear idea of what your purpose as a parent is and know what goals you have for your children.   The Foremans say that you need to identify any of your parents traits that you want to hold onto and preserve and you need to know which traits you want to leave behind.  Once you do this you can begin developing your own parenting style.
Mark and Jan really drive home the idea that we should be enjoying our children the way God enjoys us.   They give practical methods for developing your children's creativity while encouraging them to find God's purpose for their lives.
My Opinion
Never Say No – Raising Big Picture Kids  is a book that will step on your toes.  At least it did mine.  This really isn't a leisurely read it's more like a workbook.  There are questions at the end of each chapter which serve to make you really apply what you've just read to your own situation.  When I began this book I did so with an open mind and I believe you must do this to get the most out of the book.
The writing style of the book is easy to read.  Mark and Jan take turns with the chapters and they tell personal parenting stories and relate those to the main points of the chapter.
I think the biggest thing I took away from this book is the fact that I focus on the wrong things too many times as a parent.  Instead of focusing on developing a great relationship with my children, I sometimes think they should be little robots behaving exactly how I think they should.
Since reading this book I have changed my behavior in that when my 6 year old asks me to get on the floor and play with him I don't tell him no.  I relish that time with him.   I go and play tennis with my older two children instead of working on blog posts.  I have come to realize that they will not always be children and I don't want their memories of me to be me telling them no when they want to spend time with me.
I highly recommend getting this book.  Whether you are a parent or plan on being a parent there are truths in this book that can benefit you if you are willing to open yourself up to it.  There is an e-book available but I really think the physical book would be the best version due to the questions to answer at the end of each chapter.
Disclosure: I received a free copy of this book in exchange for my unbiased opinion.  I did not receive any other compensation and my opinions are all my own.