Sponsored Post – The following is a paid sponsored post
Does your website have a mobile version?  If you want to compete in today's environment you have to be aware of mobile users.  The proliferation of tablets and smartphones have created the need to have a mobile version of your website.  In looking at my recent website stats I see that 1 in 3 visitors were on a mobile device.  That means that if you are getting 1000 visitors in a week over 300 of them are on mobile.  Small businesses can't afford to miss out on that many potential sales.
What does this mean for you as a consultant or entrepreneur?  It means that there are thousands of companies out there who need mobile websites.  Today I'm looking at a mobile website reseller program from mob.is.it.   mob.is.it offers a mobile website reseller program that presents a great opportunity especially for those with existing web clients.

Mobile Website Reseller Plan Overview
mob.is.it has a simple and intuitive CMS which makes building mobile sites fast and easy.  When you sign up for the reseller program you have two options: Basic and Power.  Each plan has it's own benefits.  It's up to you to decide which mobile website reseller plan is right for you.  See the comparison below:
| | | |
| --- | --- | --- |
| Basic Reseller | Feature | Power Reseller |
|  FREE |  One Time Setup Fee |  $300 |
|  $70 |  Monthly Fee |  $70 |
|  UNLIMITED |  Mobile Websites Included |  35 |
|  Yes |  White Label |  Yes |
|  Yes | Use Custom URLs For Your Sites |  Yes |
|  Yes | Build Full Featured Mobile Websites | Yes |
|  Yes | Resell Sites To Your Customers |  Yes |
|  No |  Your Own Reselling Website |  Yes |
|  No |  Let Customers Register and Buy Sites |  Yes |
|  No | Build Customized Templates |  Yes |
|  No | Create Your Own Pricing Plans |  Yes |
|  No | Have Your Own Resellers |  Yes |
In looking at the plans I see that the Basic Reseller plan is perfect for someone like me who has web clients that I want to sell  this service to.  I can create and manage unlimited sites for my clients for only $70/month.  This creates a huge recurring income potential.  The Power Reseller program is for those who want to get serious and sell mobile websites to the masses.  The mobile website reseller plans from mob.is.it gives you another income avenue for your business.
The Website Builder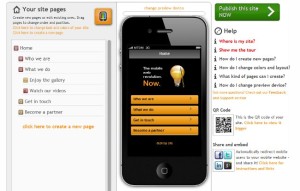 A mobile website reseller plan is useless unless it is backed by a rock solid website builder.   I created an account and tried building a mobile site for Small Biz Dad.  You have the option to to straight to the CMS or use the wizard when building a new site.  I chose the wizard and  uploaded my logo and wrote some intro text in a little over two minutes.
Now, my website is a blog so the mobile version I built was fairly basic.  I added my RSS feed and set a few settings and I was done.  The entire site was done in 5 minutes.  Of course, I could have spent more time customizing buttons, backgrounds, fonts, and other settings.  You have complete control over the look and feel of your mobile site.
Can You Sell It?
The benefit here is that you can build a mobile site for an existing client.  Then go to that client and pull up the site on your phone.  If they see the site is done and works great then they are more likely to be willing to pay a small monthly fee for that site.  I think the ability to build a site and preview it is a great selling point for this mobile website reseller plan.
But what about new clients?  Here's an idea…go to your local yellow pages and find several restaurants.  Go to their websites and find two with no mobile site or a bad one.  Then build them a knockout mobile site using mob.is.it and schedule a meeting with the owner or manager.  Show them their existing site and then show them the one you built.  You could have very easily just found a new client for mobile and potentially other work.
mob.is.it has a great blog post on how to sell mobile sites to your customers.  Check it out here.
My Final Thoughts
When I was asked to look into mob.is.it's mobile website reseller plan I had a bit of hesitation.  There are many "reseller" plans out there that are simply glorified affiliate plans.  But this one is the real deal.  The white label feature means your clients never know about mob.is.it plus you increase the reach and revenue potential for your company.
The website builder is easy to use and full featured which means you can create top notch mobile sites for your clients…not dumbed down versions of their desktop sites.  The cost per month may seem a little high at first but just say you add only 5 clients a month at $10/month with a $300 setup fee.  Your PROFIT would be over $20,000 for the year.  That's not bad…but what if you add 10..or 20 clients a month…you can see the potential.