We've all been there…with a potential client and we go to pull out a business card and….nothing.  "I'm sorry, I'm all out of cards…let me write my number down on this napkin".  I think we all know that most of the time that napkin ends up in the trash before we're to our car.
So, can we dump business cards and use our smart phones instead?  There are some very promising apps out there right now that make this a possibility.
CardCloud
Cardcloud (formerly named "My Name is E") features a virtual business card which actually looks pretty good.  You can share your card with other CardCloud users via wireless share or send the card via email to anyone.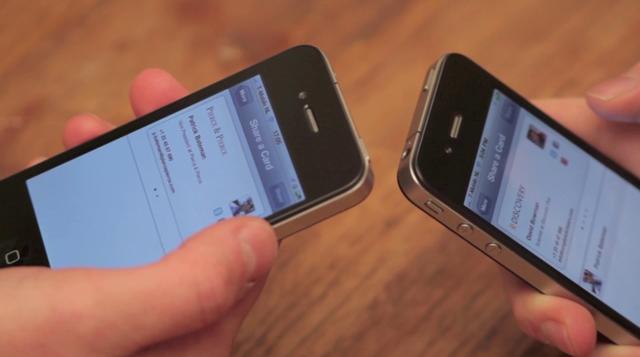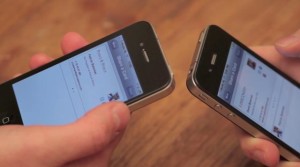 Cardcloud lets you create as many cards as you like.  This comes in handy since you can have a personal contact card for non business use, a freelancer card for your side work, and an official card for your day job.  You can even create a card for your dogwalking business if you like.  Each card can be customized and have images and logos added.
Another good feature is that each card is trackable.  So you can include details about the contact you shared with.  Such as when did you meet them, where did you meet them, and how you met them.  You also add notes about the contact.
Available for iPhone and Android devices.
Bump
Bump allows you to share your contacts with another bump user by simply "bumping" your devices together.  They accomplish this by utilizing your current location and looking on their cloud servers for another "bump" at your location.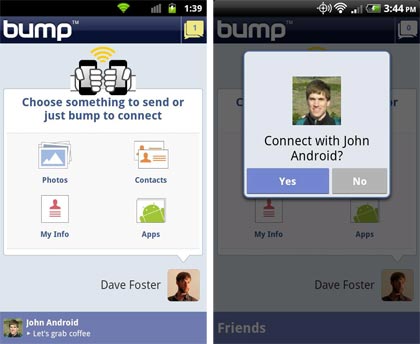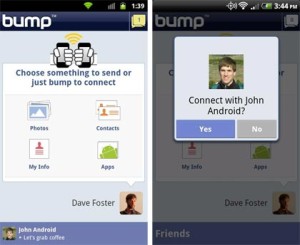 Bump actually does more then share contact details.  You can share photos, apps, sync devices, and find mutual friends.  A new feature actually allows you to send photos from your phone to a web browser.
Bump works across platforms and is available on iPhone and Android devices.  One drawback for Bump is that the other person must also be using the app.  But Bump has 75 million downloads so there are a lot of people out there using it.
A feature which could prove useful for business users is the ability to show common contacts.  The app actually scans your contacts and compares them to the other user.  This feature can be disabled for those are concerned about privacy.
Jumpscan
Jumpscan allows you to turn your contact information into a QR barcode.  Anyone with a QR reader on the phone can read the barcode and be taken to your contact information.  Jumpscan is not a mobile app but a website.  You log onto the site and create your QR code.  You can then share it to various social networks, print it,  or download it.
There are several ways business users could utilize this service.  Create one card with your QR code on it and have the other person scan the barcode.  Or simply pull up your Jumpscan profile page on your phone and display the QR code.
This may not be the ideal situation since it causes the potential client to have to scan the barcode and then save the contact details.  But it's another tool that you can use to get your information out there.
Conclusion
The great thing about these options (and the others out there) is that you can try them without having to fork out any of your hard earned money.  And there is no reason why you shouldn't use all of these apps and traditional business cards.  The fact is that if you run into a client who uses Bump and wants to exchange details…then you are prepared and can accommodate them.
Related articles