It's a few days after Christmas and my house has a few more electronic devices.  My kids each received tablets from their grandmother.  This is great but it poses a bit of a problem…charging on the go.  I have only one outlet in my car for a car charger.  When you look at three tablets, my phone, and my wife's phone then you have too many devices on any type of trip.
This brings me to my review today. I'm looking at the Smartphoneaides 3 Port USB Car Charger.  There are tons of car chargers out there and there are lots of cheap USB car chargers.  So is the Smartphoneaides charger different from these?  We'll see.
I was given a free charger in order to review this product.  That is my disclosure and I assure you my opinions are all my own.  The first thing I noticed about the USB car charger from Smartphoneaides is the packaging is very snazzy (that's a technical term).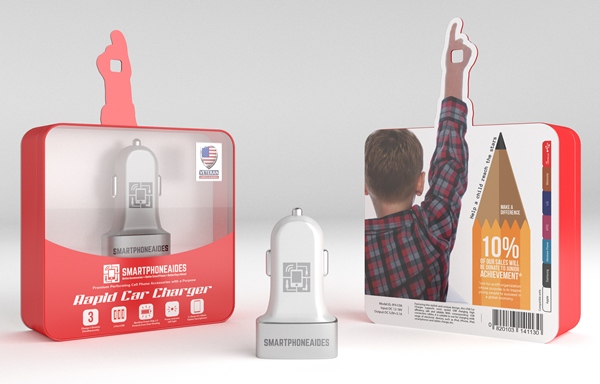 About Smartphoneaides
Before I go into the specifics of the packaging, I need to explain the company.  Smartphoneaides is a female owned company consisting of United States Veterans.  This makes me like them right away..but it gets better.   The focus of this company is not just profit but impact.  They want to have a positive impact and they do this by donating at least 10% of their proceeds to support organizations like Junior Achievement and Wounded Warrior.   
The packaging is really cool as it has the hang tag as a young boy extending his hand upward.  The device itself is also very sleek looking.  It features a white and silver color scheme which looks great.
I unpacked the device and plugged it into my car outlet.  The first thing I noticed was that it was a snug fit.  This was great because I didn't have to adjust it (which means wiggle it around) like I do my other car charger.  Next I grabbed the cable for my Samsung Galaxy S5  and plugged it into the 2.1a port.  My phone charged with no problems at all.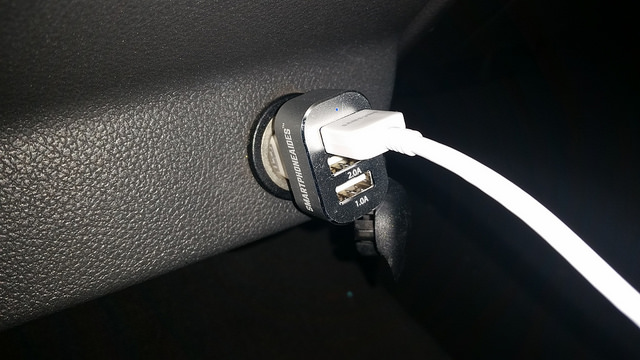 Here's an important point, I had 2 devices plugged in at one time for a couple of hours and I noticed that the charger never got hot.  This is one area where it separates itself from the cheap units you see at the gas stations.  The Smartphoneaides device features Nextgen Power Chip 2.0 technology to prevent overcharging.  This saves your device as well as extends the life of the charger.  I've always wondered why someone would trust their $600 device with a cheap $5 charger.
Even better, Smartphoneaides has a great guarantee for the LIFE OF THE PRODUCT.  If you feel like you haven't received value for any reason they will refund 100% of the purchase price.
Here are the features:
CUTTING EDGE – Uses exclusive NEXTGEN POWER CHIP 2.0 TM technology which stops charging your device when the charge is full on that port. This extends the life of the charger and does not create any static issues or interference with your favorite song on the radio
VEHICLE PROTECTION – High output charger will not damage your vehicle's circuit breakers or cigarette holder. It will not begin to smoke after plugged in for an hour. Utilizing "wings" technology to actually fit in the cigarette holder like other higher end products. This charger will not get hot because of the high grade anti-oxidized aluminum and premium fireproof material.
STRESS FREE – You will not have to fiddle, shake or physically hold the charger in place for it to work. It has a nice snug fit. The design is sturdy and compact that doesn't stick out too far. It's strong enough to keep a solid connection when you have three cables in it weighing it down. The higher quality of materials used is immediately noticeable
UNMATCHED VERSATILITY – No more "I changed phones and now I have to buy a new charger" dilemma. Certified to meet Apple performance standards. However these USB ports don't just stop there. You will be simultaneously charging all sorts of devices with ease. Works with Apple iPhone 6/5/5s/4/4s; iPad 5/Air/Mini; Nexus 4; HTC; LG; MP3/MP4 Player; iPod-Touch 4th Gen; Samsung Galaxy Note S5/S4/S3/Tab 2.0; Motorola; Blu-eCigarette; GoPro Device; Handheld Gaming Devices like your kids Nintendo 3DXL or Sony PlayStation. Labeled nicely so you know which port works best with your device. Perfect for day to day use or long family trips!
GUARANTEE- Our 100% 'Better Than Your Money Back' guarantee will give you peace of mind so that you never having to buy a new charger again.. No questions, catches, or requirements.
Conclusion
It's rare that you get a product that does what is says and does it well.  I think that the 3 port USB Rapid Charger from Smartphoneaides hits the mark.  I tried it out for several days and I have no negatives on this device.  The fact that the company is Veteran owned and donates a portion of it's proceeds to worthwhile causes is icing on the cake.
How To Get It
If you don't win the contest below then you can get yours from Amazon at a special 50% off price of $19.95.  Pick it up here.
Win A USB Car Charger from Smartphoneaides
We're giving away a charger for you to have of your very own.  Just enter below.