There is no doubt that Dropbox is one of the most useful tools out there and with mobile versions for Android, Blackberry and iOS you can bet that having it on your mobile is a must.   Pretty much any type of user can find a need for Dropbox.   It can be used for basic file storage and backup, image storage, music storage, sharing files with friends, and much more.  Business users can take advantage of all Dropbox has to offer and it can become an invaluable tool for them.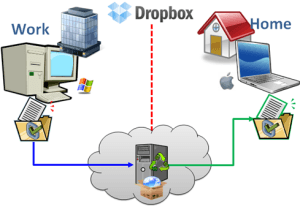 I use Dropbox for many things.
 I use it to backup my phone for easy restoring in case of an emergency and Dropbox has a great feature which automatically uploads your camera pics and videos as soon as you take them.  This ensures that you don't lose any images and that you can access those images on an computer without having to email them to yourself.
I use Dropbox to sync my Visual Studio Projects.  I use my home laptop, home desktop, work laptop, and work desktop for development.  It was always a pain to export a project and open it on another computer.  Save the changes take it back to the source and save it.  I simply moved my default project folder to Dropbox and now whenever Iopen Visual Studio it uses the Dropbox version.  Then, regardless of what computer I'm on, I am always working on the current version and it is in perfect sync.
Quickbooks presents the same problem as Visual Studio.  Storing your Quickbooks files in Dropbox allows you to work with them from different computers.  One warning here, you should only have the files open from one computer at a time.  You shouldn't try to open them (or Visual Studio files) from two different computers at the same time.
Storing my client files (Invoices, Estimates, project files) allows me to access them from any computer or my phone.  This has come in handy when visiting a client and they ask me to resend an invoice.  I don't have to wait until I get back to the office, I open Dropbox on my phone and email the invoice to them.
Another positive for Dropbox are the number of apps which integrate with it automatically.  Just on this site alone, we have mentioned several apps which use Dropbox in one way or another.   For instance,
Time Tracker
allows you to backup to Dropbox and even restore from Dropbox.
That's just a drop in the bucket for the uses of Dropbox.  But that's just the basic Dropbox.  There is also a Dropbox for Teams which targets business users.  The features include:
Dedicated phone support
Storage starting at 1TB
Centralized billing for your team
Monitor activity and usage by person
Share and collaborate with team members
Keep selected files private
Pricing for Dropbox for Teams starts at $795 per year for 5 users and 1TB of storage.  Have a large team?  Get 10TB of storage for 50 team members for $6420 per year.
Related articles