Are you a freelancer of consultant? If so then you know the importance of tracking your expenses including billable time.  It's a topic that I have written about many times on this site and my previous site.  The fact is that if you don't track your time accurately then you miss out on getting paid.  If you miss expenses then you don't get reimbursed or even worse…miss out on tax deductions.
Today I'm looking at Expensify.  Expensify allows you to track time, mileage, and other expenses via the web or mobile apps.  I personally use Expensify with my consulting business and I love it.  It has saved me much time and money.  I am only one person but the power of Expensify is teams.  If you have employees they can report their expenses via Expensify and you can approve them easily.  I'm going to list the features of Expensify below and give you my thoughts on them:
Expenses – Duh…of course they do expenses.  But the details are the key here.  Expensify lets you import your credit or debit card data automatically so you don't have to manually import your expenses.  This is a great time saver.  With Expensify you can capture mileage, time, and other billable expenses such as meals.    Expensify also makes organizing your expenses easy by using custom categories, tags, and comments.    I use the tags to assign expenses to specific clients.
Receipts – Receipts are very important when dealing with taxes and reimbursable expenses.  Expensify has SmartScanning.  You take a picture of your receipt and Expensify parses it grabs all of the details.   You can capture email receipts and itineraries simply by forwarding them to receipts@expensify.com and Expensify handles it from there.    Expensify also has a Chrome extension that lets you capture any web page as a receipt.   All of these features serve to make your life easier.  Also, come tax time you'll be very thankful for the photo of the receipts.
Administration – This is where Expensify shines for larger companies.  A manager can easily reconcile company credit card transactions.  Want to save time??  You can process many expense reports with one click.  You don't have to spend hours going over reports.   Expensify also allows managers to reimburse employees using Direct Deposit or Paypal.
Compliance – I love the fact that you can set up company policies and rules. Expensify then ensures that each expense adheres to your company policy.  This helps ensure that each employee is treated the same and every expense meets your company standards.    A full audit trail helps you see complete report history which can be helpful in case of an audit.
Mobile – Expensify has mobile apps for iOS, Android, Blackberry, and Windows Phone.  I have to admit that this is the main reason I use Expensify.  I do most of my business on site at client locations and I need to be able to easily track mileage and billable time.   You can create expense reports on your phone and then submit them.  The sooner you submit expenses…the sooner you get paid…so that's a winner.
Integrations – Expensify has a custom data exchange which lets you integrate with any accounting, payroll, ERP, or CRM system.  The developer in me loves the fact that Expensify has a private API which lets you schedule export tasks for your existing system.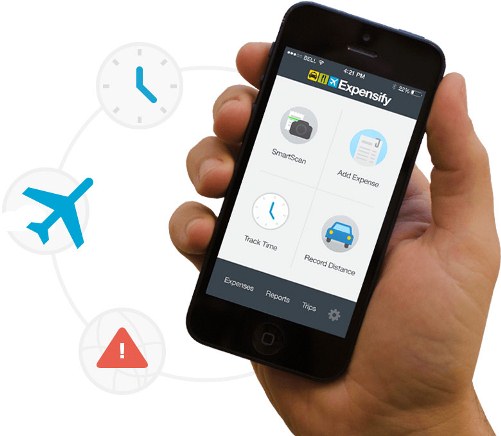 As you can see, Expensify has many features.  I use the free version which currently does everything I need.  However, for just $5/month per user you get a couple more features.  See the full pricing grid here.
I've tried many expense/time tracking apps over the years and Expensify has managed to meet all of my needs.  If you have any other apps/services that you use then leave a comment below and let me know what they are and why you use them.