What goals or resolutions did you make this past January 1st?  Most of us have things we want to accomplish in life.  These goals can be business or personal in nature.  I have both types of goals I'm working towards at the moment.  So today I'm looking at Everest for iOS.  Everest lets you define your goals and then it helps you work towards those goals one step at a time.
Everest lets you break your goal up into smaller steps.  I don't know about you but, for me, it's encourages me to accomplish smaller goals instead of staring at a massive goal in front of me.  Once you set your goal you then choose people to be on your "Dream Team" these people are to help you with motivation and staying accountable.  Accountability is a huge part of accomplishing any goal.  Next you can add steps to complete your goal.  You then check off your steps or accomplishments each day.
Everest lets you make dreams public or private.  Public dreams have the added benefit of allowing others to suggest steps and encourage you.  This acts as reinforcement to complete steps and stay on task.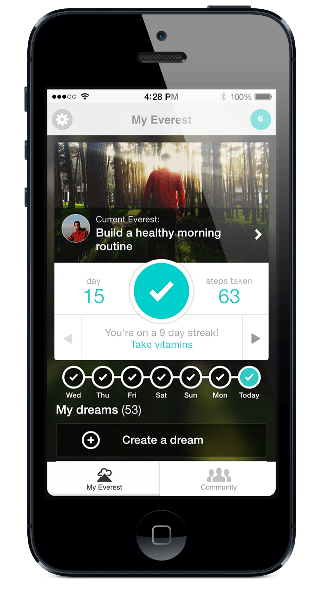 Everest Features
Create Unlimited Number of Goals and Dreams
Make Goals and Dreams Public or Private
Use a Dream Team of people to motivate and support you
Create small steps to complete each day to reach your goal
Repeating steps help build new habits
Get step suggestions from friends or community members
See others pursuing similar goals.  Copy their dreams and goals
Get nudges from people following you when you've fallen off track
See how many people you've inspired each week
Capture moments with photos, quotes, tips, and reflections
Accept challenges on the web which will sync to your phone for guidance and pros
Share your progress on Facebook and Twitter
Some examples of dreams and goals people have used Everest for are: Start a Business, Write a Book, Pay off My Loans, and Run a Marathon.   Everest is an interesting concept and I certainly think utilizing accountability and social media has the chance to be effective.