Evernote updated their Android client today and adds some much requested features.  As most of you know, Evernote is one of the more polished and popular apps out there.  It can be used in so many different ways.
Here's a summary of changes in the update:
Reminders
You can now add a reminder with due date on your notes.  You will then receive a notification on your device and via email.  This feature has been on a lot of people's wish list for Evernote on Android for a while.  It's nice to finally see it happen.  This moves Evernote closer to adding "task manager" to it's list of uses.
Pinning
Reminders are pinned to the top of your note list, tag list, and search results.  This means that you have them in front of you until you check them off.  I can see using reminders for things that I HAVE to get done.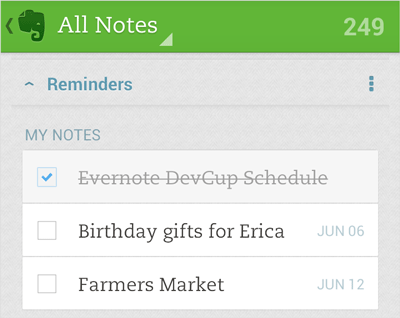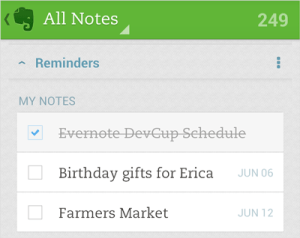 Shared and Business Notebook Support
Reminder support extends to business and shared notebooks.  I really like this feature.  Suppose you view your company's business notebook…you can choose to subscribe to reminders on that notebook.  At that point you would be notified just like it was one of your reminders.  This is a great way for teams and supervisors to stay on top of project activity.
This is a nice update for Evernote.  See their blog post HERE for the full story.