Do you remember names of people after you meet them?  I have to be honest…I am terrible at remembering people and it has hurt me professionally in the past.  I once met a potential client while visiting an existing client.  Then a week or so later the person sees me at the grocery store and I walk right by them.  I simply didn't remember them.  They later told my client that the encounter affected their decision not to hire me.
So today I'm looking at Evernote Hello.  Evernote is a powerful tool for business users and is one of the most polished apps/services out there right now.  There are people who swear by it and those (like me) who use it occasionally and would love to use it more often.  Evernote Hello may just help me do this.
In A Nutshell
Evernote Hello lets you track everything about the encounters you have with people.  This means that if I meet a potential client, I can enter this into Evernote Hello.  I do this by entering their contact info, snapping a picture of them, and recording details of the the encounter.   The app also pulls data from your calendar, social networks, and Evernote itself.    Evernote Hello then displays my contacts in a nice mosaic of faces (see below).  The contact details are kept within Evernote but can be pushed to your phone contacts easily.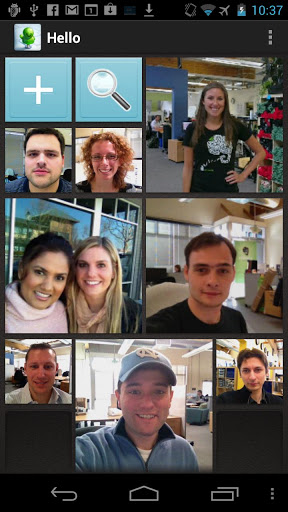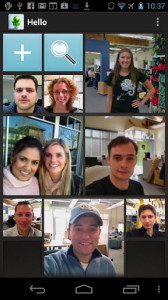 The Features
Hello Connect – This is a great feature that is useful only if there are others near you also using Evernote Hello.  Here's how it works.  Let's say you're at a conference and you go to dinner with several new people.  You fire up Evernote Hello and open the Connect feature.  The device sends out an audio tone.  If there are others at the table who also have Hello installed, their devices communicate with yours and vice versa.  Basically each of you then see a list of others and you have the option to import all or some or one of the contacts.  This is really cool and has great potential for social networking.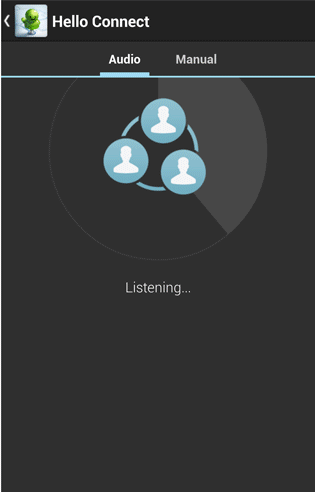 Business Card Scanning –  There are other apps that do just this.  But Evernote Hello has this as a feature and it works pretty good especially considering it is just a feature and not the prime focus.  You get a business card and scan it using the app.  All pertinent details are then pulled out and categorized.  This is big because you have to realize that most people will not be using Evernote Hello.  So a business card is the next best option. Note: currently available on iOS version only. They are working on adding this to the Android version.
Grouping – This is very helpful later down the road.  If you meet a group of people at the same time (roughly) then Evernote Hello knows that they may be related somehow.  So when you view one of the contacts the others will show up as related notes.  This can be useful in strengthening connections.
Social Integration – I meet you and get your email address.  When I enter this into Evernote Hello, it searches Facebook and Linkedin (if you link the accounts) and pulls in profile information for that person.   This has the added benefit of speeding up info entry.  For me, this makes it more likely that I will use the app.
Final Thoughts
Evernote Hello is an app that I'm very excited about.  The ability to easily enter details on people I come into contact with is appealing.  But more appealing this that I can now track every interaction with that person and access it in one location.   Evernote Hello is available on iOS and Android and is worth trying out.