This site focuses on apps that help you get more done in your business and personal lives.  There are plenty of reviews here for productivity, finance, and business apps.  But one category we rarely cover is games.   Lately I've been thinking over that and decided to start covering a game every so often.  The reason being is that most of us who use our phones/tablets for business also have a game or two on them to pass the time when we aren't working.   I play games while waiting at the airport or waiting to pick my kids up from school.  This is, of course, only when I don't have some urgent work I can be doing on my phone.
Today I'm looking at Casino Games by 888 Casino for iPhone.   I have to admit that I'm a sucker for blackjack games.  So I was excited to try 888 Casino for iPhone.   Now, I've tried other online casino games before and there are some good ones out there and some bad ones.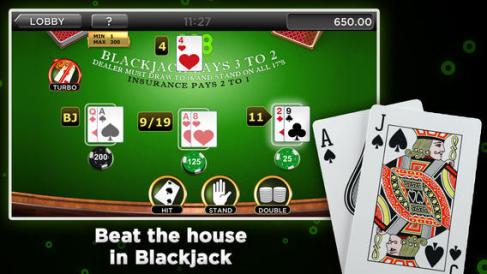 I like the look and feel of 888 Casino and it ran well on my phone.   You have the option with 888 Casino for iPhone to play for fun or with real money.  I like this because I'm in the US so I can't play for real money.  However, if you live in the UK or some other country where it is legal, then you are good to go.      There are quite a few games to choose from with 888 Casino, including:
Slot Games – You get a variety of slot games to choose from with great graphics.
Roulette – A few varieties of roulette to choose from.
Blackjack – This is where I spend most of my time.  I have a blast playing this game.
Video Poker – I'm not a big fan of video poker but 888 Casino has it if you like it.
As I said before, you are able to play for real money with 888 Casino for iPhone.  This might worry some people when dealing with real money but 888 Casino has been around since 1997 and have over 25 million users.  The iPhone apps may be relatively new but 888 Casino is not.  That should instill some trust in the app and make you more comfortable playing with real money.
To sum it all up, 888 Casino has a nice interface with good graphics and a good selection of games to play.  Check it out and play for free or give it a go with real money and you might make enough to take a nice vacation from your job.