We have been making an effort in my family to eat healthier.  I don't mean that we have gone all Vegan or anything but we certainly want to improve the health of our entire family.   One meal that I love is breakfast.  I love a hot breakfast and so do my kids.  My mission became to come up with a healthy breakfast that we all actually want to eat.   I don't know about your house but my house during the school week is hectic.  My wife and I are getting ready for work and we are getting the kids ready.  With two boys that is quite a job.   This means that I don't have time to cook a full breakfast.   We usually have to eat our breakfast on the go.   I am very excited about this breakfast recipe I came up with (see recipe below).  This recipe uses Egg substitute, turkey bacon, 2% cheese slices, and Aunt Jemima Frozen Waffles.   #4MoreWaffles
I stopped off at Publix today on the way home from church.   I picked up all of my items and then made my way to the frozen section to find the waffles.   There were four varieties of Aunt Jemima frozen waffles: Blueberry, Homestyle, Lowfat, and Buttermilk.     One thing I notice was the packaging was different.  Instead of the old box that we all know and hate…Aunt Jemima is now in a resealable bag.   I know this will keep thme fresh longer.   Goodbye to the box.  I decided on Buttermilk because I love the way they taste and the calorie difference between them and the low fat variety isn't all that much.  Once I picked those out I headed to the check out and was on my way home.  I think I broke my record for fastest shopping trip at Publix.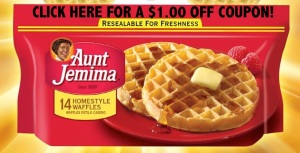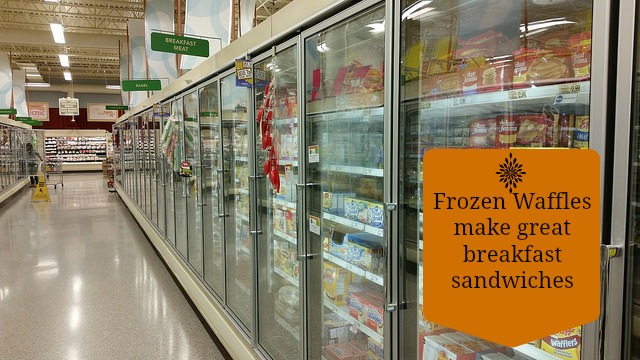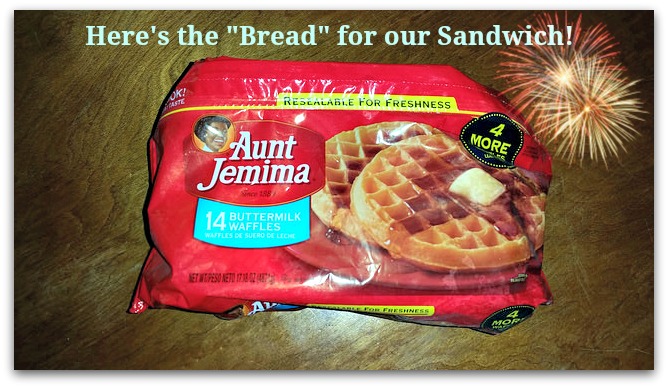 Once I got home I set up my electric griddle (which I love to cook with).   Cooking with egg substitute can be tricky if you are trying to keep them together.  My wife bought me this cool little contraption that helps keep them together.  It's basically just a silicone circle that you pour the egg substitute into and it makes it nice and round.   I went ahead and made 6 egg patties so the kids would have enough for two days of breakfast.   Anything we can do on Sunday afternoon to save time during a hectic week is good.   The turkey bacon was next and I made two pieces for each sandwich.   After everything was cooked I placed one egg patty and two slices of bacon into a plastic baggie and into the freezer they went.    With the prep work done all that was left was to put it all together the next morning.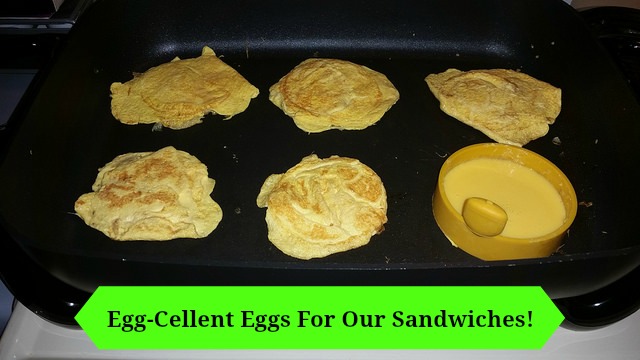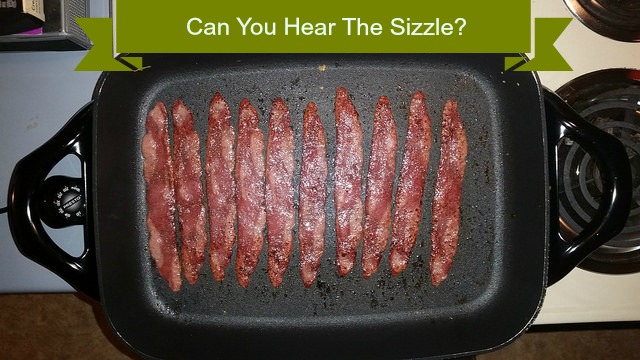 The next morning came and the kids were clamoring for food.   I thew the eggs and bacon in the microwave for a quick 30 seconds and popped two Aunt Jemima frozen waffles into the toaster.   Once they popped up (it took like 1 minute) I grabbed the waffles placed an egg patty, 2 slices of bacon, and a slice of 2% milk cheese onto them.  I wrapped each sandwich in a paper towel and handed it to the kids.  They were eating them as they ran out to the car and my wife said all of them enjoyed the sandwiches.
This recipe using Aunt Jemima frozen waffles, turkey bacon, egg substitute, and low fat cheese is a win win.  The kids love them, they are health, and they are quick and easy to make for the entire week.  Do you have a favorite breakfast recipe?  If so leave a comment below and let me know what you make. #CollectiveBias
 Healthy Breakfast Sandwich
Ingredients
14 count Aunt Jemima Buttermilk Frozen Waffles
1 container Egg substitute
1 pkg Turkey Bacon
6 slices of 2% milk cheese
Directions
Heat electric griddle to 300 degrees.  Cook turkey bacon according to directions on package and place to the side.  Pour egg substitute into 4 inch circles on griddle.  Cook egg substitute until it begins to brown on both sides.   Place frozen waffles in toaster and select desired cook time.  Once waffles are done place one waffle on a plate and add an egg round followed by a slice of cheese.    Top it off with 2 slices of bacon and another waffle.  Enjoy!