Lately I have had the crazy idea to get a Windows 8 phone with my next upgrade.  I just like the idea of one ecosystem for all of my devices.  I'm a PC guy (sorry Mac and iPhone folks) so it makes sense to keep it all together.  I love my Samsung Galaxy S3 but I'd like to try a Windows Phone out.
So, I a few weeks ago I received a brand new HP Elitepad 900 tablet in the mail from Intel as part of their #TabletCrew promotion.  Along with the tablet I received a docking station, cover, and HP Executive Tablet Pen.  I've been putting all of these through their paces in my consulting business and so far I am very impressed.
Built For The Enterprise
HP has built the Elitepad specifically for business users.  The tablet is sleek and strong.  It is made from metal and not cheap plastic so you can expect it to take a beating on the road.  Just because it is tough doesn't mean that it's ugly.  The Elitepad actually looks great and feels good in your hands.    The Gorilla glass screen means that it can take some punishment without you having to worry about shattering the glass.
This tablet has the specs to back up any business user.  It has a dual core Intel Atom processor and 2GB of RAM.

Windows 8
I have to say that Windows 8 has taken some getting used to.  I hated it when I first tried it on a laptop but I love it on the HP Elitepad.  There are some quirky glitches here and there which are to be expected considering how new the OS is to tablets.  The ability to interface with your work machines more than makes up for any glitches along the way.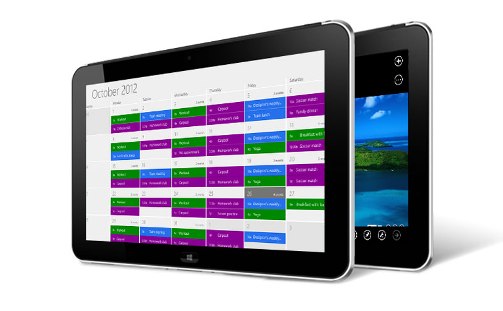 Camera
This is an area that surprised me.  Most tablets are a little weak on at least one of their cameras (if they even have two).  But the HP Elitepad features an 8MP rear camera which is important for scanning documents (we'll get to that later) and it has a 1080p HD front facing camera.  This should make video conferencing much easier.
Security
A tablet with your critical business information on it has to be secured.  And HP provided a ton of security options on the HP Elitepad.
Security Manager
Credential Manager
Password Manager
Device Access Manager with Just In Time Authentication
Computrace
Sparekey
Drive Encryption
HP BIOS Settings
Storage
The Elitepad features a 32GB SSD drive which should be plenty for most.  But just in case you need to add more you can use the micro SD card slot to expand your storage.
Docking Station
The docking station is awesome.  It features 2 USB ports, HDMI port, VGA port, and an ethernet port.  So for all intensive purposes you can connect the tablet to your docking station, connect a usb keyboard and mouse, connect a monitor, and you would have a desktop pc.  I actually connected the ethernet to my work network and used remote desktop from my work pc to remote into the tablet.  This opens up tons of possibilities.   It really is the best of both worlds…mobile and powerful.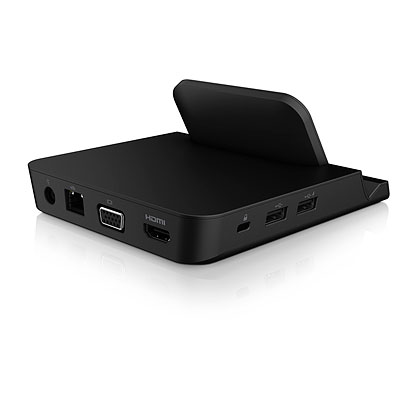 Real World Test
So I took the HP Elitepad out on the road with me to some clients.  I went in armed with my Elitepad and HP Executive Tablet Pen.  My goal was to replace paper as much as possible and see how the tablet held up in the real world.
Upon arriving at the clients office they asked about an invoice.   I was able to pull up the invoice from my Dropbox account and view it on the screen. The client liked the big screen and the document looked great.  I then was able to print to a wireless printer directly from my tablet.     The client signed the invoice, I then used HP Pagelift to scan the documents back into my Dropbox in PDF format.
Next we had our meeting.  I took notes using the HP Executive Tablet Pen and it worked pretty good.  I have to admit that the pen occassionally has trouble but it could have been operator error.  It just didn't seem to always want to talk to the tablet and the lines were sometimes choppy.  But they still worked for me and I loved the fact that I now had everything stuffed into Evernote…no paper to keep up with.
The client had a small server room and I needed some specs…so I took the HP Elitepad into the room and snapped a few pics with the 8MP rear camera…worked perfectly.  The images look great and no need to do anything with my phone.
As I was working, I received a message from my wife.  Apparently my 4 yr old was being a handful.  So I fired up Skype and was talking to him face to face with the front facing camera in seconds.
As you can see I put the HP Elitepad through it's paces and it performed well.  The hardware is top notch and I never noticed a lag.  Once glitch I have found is the screen sometimes goes black for a few seconds for no reason.  This is probably due to the OS so I'm sure it will be worked out in future updates from Microsoft.
Conclusion
So far the HP Elitepad has handled everything I've thrown at it.  It is tough and powerful.  When I compare my company iPad to this tablet it's no comparison.  The HP wins out hands down for the enterprise.  HP has built a powerful device with business users in mind.  The cost is very reasonable when you consider that, with the addition of a docking station, you are getting a full fledged desktop as well.  Great job HP and thanks to Intel for letting me get my hands on this great tablet to try it out.