Hootsuite for Business Users
I don't think anyone really knew back in 2006 the kind of impact Twitter would have on the world.  But here we are in 2o12 and most businesses have at least one twitter account.  And virtually any business which is in touch with younger generations have a heavy Twitter presence.  There are many online and mobile apps to send out your tweets and to read the tweets of those you follow.   But organizations who want to stay on top of Twitter need a higher level application.
That's where Hootsuite comes in.   Hootsuite is available in web, iOS, Android, and Blackberry versions.   Each version shares many features and have their own unique tools.    One interesting feature of the iPhone app is the ability to "Bump" to add followers.   See the full feature list for each version below.
So what makes Hootsuite so much better (in my opinion)?  The ability to manage multiple accounts is a must these days and Hootsuite does this like a pro.  You can set up custom streams to mix and match your accounts.  For instance, let's say I want to group my mentions for all accounts, well I can with Hootsuite.  Then I can just swipe to move between mentions for each account.
Next, is the ability to schedule tweets.  I have to say that this is my favorite feature.  I can sit down and schedule an entire days  (or weeks) worth of tweets and they will go out when I scheduled without my having to be online.  Why is this important?  I hate it when someone I'm following puts out ten tweets within a 5 minute period.  So, I can use the schedule function and space out my tweets strategically.
For business users Hootsuite offers advanced analytics which include Google Analytics, Facebook Insights, and Owl.ly stats.  This helps you measure the effect your social media campaigns are having and adjust things accordingly.  Also, Hootsuite features the ability to have team members which is very useful for large organizations which have multiple people working on the social media side.  A manager can assign messages to other team members.  This is very useful for responding to tweets directed at your company.
I've been talking about Twitter but let's not forget Facebook fan pages.  Hootsuite lets you monitor and update your Facebook fan pages on the go.  This makes it a complete social media app in my eyes.  The two primary social tools I use for my business is Twitter and my Facebook business page.  Being able to manage both of them from one app is vital.
Check out the features below and give Hootsuite a try.
Android Features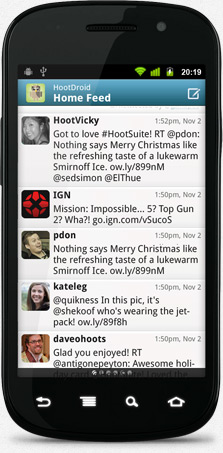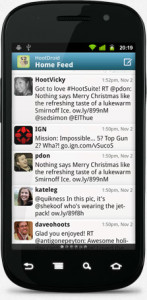 Manage multiple social identities and accounts
Receive optional background notifications for updates
Create custom views for tags and searches
Schedule messages to send in the future
Examine Ow.ly click-through stat reports
Share and store photos and files
Shorten URLs with Ow.ly
iPhone Features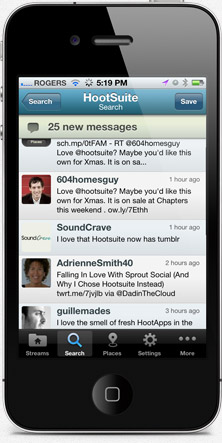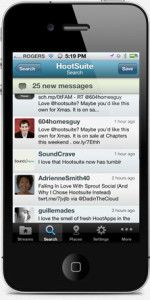 Manage Twitter accounts, lists, and search streams
Update Facebook Profile and Business/Fan Pages
Check-in and shout via your Foursquare account
Translate messages to/from 50+ languages
Schedule messages to send in the future
Examine Ow.ly click-through stat reports
Add geo-location coordinates to messages
Share and store photos and files
Shorten web addresses with Ow.ly
"Bump™" to quickly add followers
iPad Features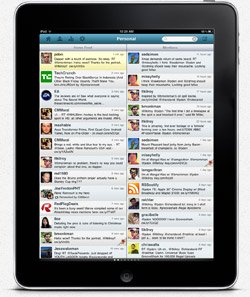 Manage Twitter accounts, lists, and search streams
Update Facebook Profile and Fan Pages
Check-in and shout via your Foursquare account
Translate messages to and from 50+ languages
Schedule messages to send in the future
Examine click-through statistics
Add geo-location coordinates to messages
Share and store photos and files
Shorten URLs with built-in Ow.ly tool
Blackberry Features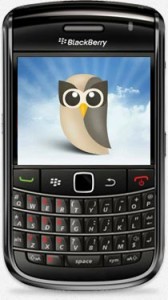 Manage multiple social identities and accounts
Receive optional background notifications for updates
Create custom views for tags and searches
Schedule messages to send in the future
Examine Ow.ly click-through stat reports
Share and store photos and files
Shorten URLs with Ow.ly
Related articles