Last week Google unveiled a new enterprise workforce management solution called Google Maps Coordinate.  The service allows companies to manage and direct their employees out in the field.  The system works by installing an app on the employee smart phone.  The managers can then use the smartphone app or a web version to direct the employees.
The service will allow the employee to start the app at the beginning of their shift and even "check in" when they get to a job.  They can also choose to stop sharing their location when they are off duty.
Google Maps Coordinate will of course have real time map visibility so the managers can see where the teams are at any given time.  This is very useful if a service call comes up, the manager can see who is nearest and what their status is.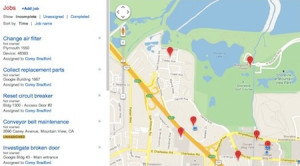 A very cool part of this feature is the ability to upload your own floor plans of a building.  The app would then use wifi to show the employee's location within the building on the floorplan.
Workers will be able to pull up a list of jobs that are assigned to them.  This will allow them to plan their days more efficiently by knowing what's coming up next.   They can then check in to the job once they are on site.  The managers will no longer be left to wonder where the worker is and when they started a job.
Google Maps Coordinate will show the worker all the details of the job on their smartphone and allow them to add notes.  The manager can define custom fields for collection of job specific data.
Managers will be able to see complete job history for a team and employee.  This will give managers the knowledge needed to define the most efficient teams for future jobs.  We all know that there are certain people that just do not work well together.
Pricing is set at $15 per user per month currently.  Pricing is set to possibly change in September.
Related articles