This Featured Post is brought to you by Platinum Play Online Casino
It's no secret that over recent years online casinos have become a big business. Globally a massive estimated annual revenue of $32 billion is being raked up by online betting and gambling. Economists have high hopes for this revenue to only grow in the coming years. Juniper Research estimates that gambling on mobile devices will be a $100 billion industry by 2017.
But just like everything else online, development of smartphone technology and the ease of access that comes with increasing mobile network data speeds, mobile apps are taking things to the next level for online casinos. The question has changed from: "How do we get people to play our online casino?" to "How do we utilize the new mobile market to get more people to play at our online casino?"
Just being an online casino like Platinum Play is not good enough anymore. Now you need to be online and you need a mobile app for your casino. Even John McCain has been in trouble for playing poker on his smartphone during a US senate hearing.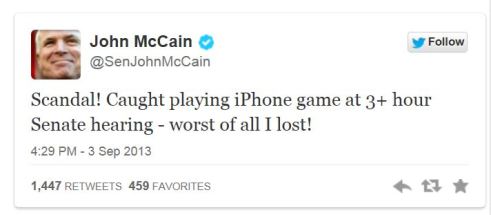 Why would you want people to come to your casino if they can just download an app for the smartphone? Zynga, the developing team behind casual games like "Words with Friend" and the horrid Facebook timewasters "Farmville" and "Mafia Wars", is already talking about their first betting games that will be released in Britain.
"All your favourite Zynga game characters will be there, except this time they'll have real money prizes to offer you," the advert says. "Play online casino games for pennies and live the dream!"
Zynga has applied for a Nevada state Gambling license, so they are clearly making the move from just casual online gaming to real money online gambling. But why would that surprise us? There is clearly a lot of money to be made. The internet is a constantly changing market with new opportunities emerging as the internet and technology around it develops further.
Apps are big business. Especially the type of app that will enable you as an online gambler to gamble on the go, for real money. Whether you want to play video poker, blackjack, roulette or any other of your chosen favourite casino games, apps allow you to do this with easy while you are waiting for a bus or standing in a queue at the grocery store.
Most online casino apps are free. But once it comes to playing for real money, you will have to start paying. Some surveys have suggested that the average online gambler spends about $300 a month on online wagering. With these amounts of money going into online gambling it is no wonder that online casinos are moving into the world of apps.
Are apps taking over? Will every part of your life be run by an app in the future? Have you ever gambled using an app? Let us know in the comments below.