As I sit here typing away at 1:22am I remember that I am expecting a pretty important package from a vendor.  I paid over $6000 for some software for a client and the vendor is supposed to be shipping me the manual and license keys.  I received the tracking info…but don't remember what I did with it.  Yes, I can go to my email and search for the message and have the info in less than 5 minutes.  But, what if there were an app that would track it for me and alert me on all of the steps along the way?  Well there is and it's our next review here, it's Package Tracker Pro.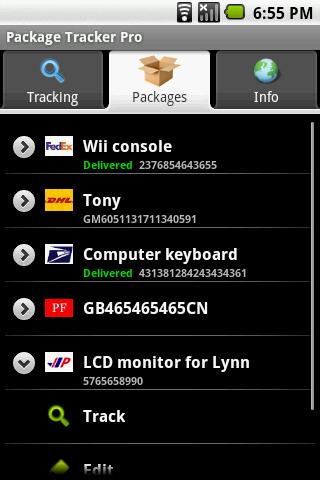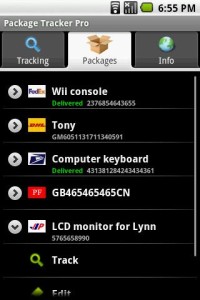 What It Does
Package Tracker Pro lets you track packages from a variety of shippers.  For me, there are only four that I care about and that's Fedex, UPS, USPS, and DHL.  But if you're not located in the United States, they still have you covered with many other shippers.   The application will notify you via standard ringtone, led, vibration, and email of any updates to your package.  This means you don't even need to remember to look up the tracking.
Why You Need It
From my point of view, Package Tracker Pro is one of those apps that I didn't really think about needing until I actually used it.  In genera, we get used to dealing with these little hassles but once we find a tool that eliminates the hassles we have a hard time living without them.  This application is one of those apps to me.   If you ship a lot of items or receive a lot of items then Package Tracker Pro will save you time and headache.  Let's say you ship a package to your client and they call you frantic that they never received it.  You can easily find out the delivery status of the package and have an answer for your client.
Primary Features
Package tracking (Parcel tracking) of a variety of shipping carriers
Notification and alert via Ringtone / LED / vibration / email
Label/edit/delete package
Sync tracking # list from PC (sync site) to phone and without typing on phone.
email tracking information
Display package route map if available
Customize your carrier list
option to sort package display by package add-on time
option to enable group package list by carrier
Support App2SD