Do you monitor what is being said about your company?  How about your competitors?  In today's social environment you have to know how to best market your business by listening to what others are saying about you and your competition.
Perch for Small Business is an Android and iOS app that I ran across recently which aims to let you do that.  Perch allows you to find businesses near you and monitor their social media activities, promotions, and reviews.   With Perch you can "Watch" your business or your competitors and even be notified when there is a new review or post.  Perch lets you see all of the activities in one central location which should simplify your life.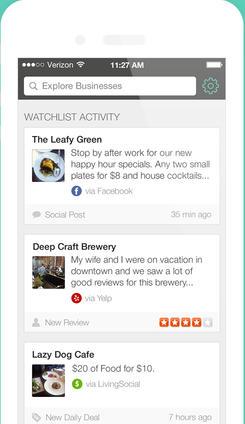 Everything Within Perch
Perch combines Facebook, Twitter, Google+, Yelp, Living Social, Foursquare, Groupon, and Instagram data so it's easy to watch your business as well as any of your competitors.  You can view all of this data independently with other apps but Perch lets you do it in one location.
Get Notified
With Perch, when someone makes a post about your business or your competitor, you are sent a mobile notification.  There is also a daily digest email with the days activity.  This is a great feature and one reason I am looking at Perch.  Let's say you have an unhappy client or maybe a competitor who is trying to sabotage you…you can respond the right way and before too much damage is done.
Watch The Competition
Creating a watch list of local business is easy with Perch.  This lets you see how your competitors are doing.  It also lets you see non competitors  in your area that are doing very well with social media.  You can then try to imitate what they are doing and get similar results.
Conclusion
I have been using Perch for a few weeks now and I have to say that I like it.  I find myself using it to check out other local businesses even if they aren't competitors.  One negative is that I couldn't find all businesses.  But that may be due to the fact that not every business is pushing social media.  Perch is free and certainly worth looking at.