For many business people, tracking expenses means sticking receipts in a shoe box and digging through them at the end of the month or tax time.  However, there is no reason today to put yourself through that self torturous activity.  There are many expense tracking applications out there.  Many of which are web based and have mobile applications.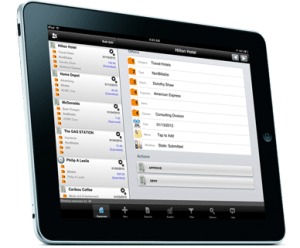 ProOnGo aims to solve your expense tracking problems and has quite a big bag of tricks.  ProOnGo features a subscription model which gives you more features with each step up in subscription level.  One important feature to note is the integration with Quickbooks.  This save a lot of time and frustration when it comes to keeping everything synced up.  No more sitting at the computer on Quickbooks scratching your head with all of those receipts.
How it Works
Employees download the ProOnGo app for Android, iPhone, iPad, or Blackberry device and enter their expenses.  They can also log onto the ProOnGo website and enter expenses.   The business owner/manager can then view the entries on the mobile app or website and approve or deny the expenses.  They can then generate reports based on the expenses.   Lastly, the manager can then sync the employee expenses to their Quickbooks account.
Features
Mobile App and Web Portal – Real-time expenses on every device. Create, view, approve and reimburse expenses from the ProOnGo Expense mobile application or the ProOnGo Web Portal.
Quickbooks Integration – Industry leading QuickBooks integration allows you to sync expenses and label them with your Chart of Accounts, Customer:Job, Payment Methods, etc.
Mobile Expense Approval – The only expense solution that lets you view, approve/deny and reimburse your employee expenses from both the ProOnGo Expense mobile application and Web Portal.
Receipt Reading – Take pictures or forward your receipts from your email and the Receipt Reader will automatically extract the Vendor, Date and Total Amount.
Mileage Tracking – Track mileage expenses using your phone's GPS, enter in odometer readings or just simply type in an address or city name.
Time Tracking – Create expenses from your call log or calendar and sync your time expenses with QuickBooks Timesheets.
Expense Reports – Export your expenses directly to your company's template, or use the stock ProOnGo Excel spreadsheet. CSV and XML also available
Credit Card Sync – Download your credit card transactions into your expense list and create your expense reports just by labeling transactions.

Related articles