Raise your hands if you use pretty much the same password for all of your online accounts and maybe even your computer accounts.  That seems to be the norm for many business users who have to remember a lot of passwords and accounts.   Let's not even mention the post it notes that have important information written on them and are posted on the sides of you monitor.
Business users not only have the many passwords for online sites but also important financial account numbers, logins to CRM applications, and much more.  These logins hold the key to customer data, employee data, financial data and much more.  Therefore it is vital that business owners secure this information.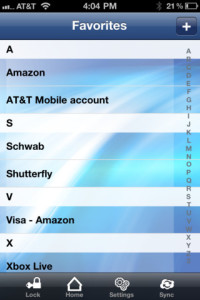 If you have an iOS device then you can try Passwords Plus from Dataviz.  Passwords Plus lets you securely store your passwords, PINs, usernames, web logins, account numbers, and more.    Like other apps in this category, you create a "Master" password which is used to  access your information.  So theoretically, you can remember just that one password and you are set.  This opens up the possibility of using the password generator in Passwords Plus to generate a truly random password because now you don't have to remember it.
Besides password generation, Passwords Plus has a few other nice features including a self destruct option.   This is optional and you don't have to enable it.  But if you do, you can specify the number of incorrect logins before the app in uninstalled.  This will prevent a brute force attack if your device is stolen.
Passwords Plus also allows you to organize your data into categories.  This makes it much easier to get to what you need quickly.  A nice feature, and common to other apps, is the auto lock feature.   This ensures that if you leave your phone unattended the app will lock and require the master password to be entered before opening.  Lastly, Passwords Plus has the optional feature of syncing to the cloud.  This will let the data on your iPhone match your iPad and your Windows version.
Passwords Plus is made by the makers of Documents to Go.