Years ago in my old job my company decided to go paperless.   This was a great idea and I loved it but then reality hit.  While we may be paperless and generating digital documents, the other companies we deal with are not.  This meant we needed a way to get all of that paper into the system and track it.  We had to purchase large scanners and digital imaging equipment.  Since then the system has been perfected but the need to scan documents in is still there and will be until everyone goes digital.
This leads me to today's app OfficeDrop for Android or iOS.  OfficeDrop offers a cloud storage service which lets you "Sync, Scan, Search and Share files from anywhere".    Imagine Dropbox with the ability to scan documents using your Android camera and recognize text using OCR technology.
How Would I Use It
Personally I see many ways to use this service but the one that interests me the most is the ability to scan my receipts and store them on OfficeDrop.  This would mean that I could turn around and search all of my receipts for keywords or amounts.    Of course this isn't the only use of the service.  Think of it as a digital filing cabinet to throw all of your documents into.
The Main Features
Access Files From Anywhere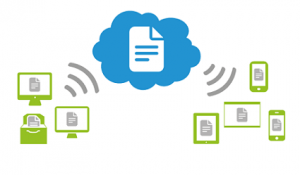 With OfficeDrop you can access and search all of your documents in the cloud.  Used in conjunction with OfficeDrop's Windows File Sync you can access all of your important files from your mobile device.
With the number of companies which provide both smartphones and tablets to their employees on the rise, keeping files in sync is a must.  OfficeDrop does this by storing your files on it's cloud servers.
File Sharing
OfficeDrop lets you share a file from your mobile device.  You can share the file via email with a public link or a private link.  A public link means anyone with the link can access the file, while the private link is specific to the individual you send the file to.  A nice option here is the ability to see who has viewed the shared file via Share Auditing which is done via a web browser.
File Search
In my opinion this is the big draw for OfficeDrop.  OfficeDrop uses full text search for documents scanned in along with Word files, Power Point files, and pretty much any files with readable text.    For more sophisticated search, go to a web browser and you can search by modified date, file type, and keyword.  Combine these search methods to find exactly what you're looking for.
Scan From Your Phone
OfficeDrop scans any document to PDF and applies OCR technology to make it searchable.   You could use this for receipts, business cards, invoices, letters, and anything else you want to keep and search.   OfficeDrop has both Android and iOS apps available.
Free Or Paid Plans
OfficeDrop has both free and paid plans available.   The free plan includes 2GB of searchable storage, 1GB file size limit, and 50 OCR pages per month.   There are a large select of paid plans from personal up to multiple business levels.
The paid plans include a free trial so you don't lose anything by trying it out.