We live in a social world.  If you spend any time at all online then you are most certainly on at least one social network.   Do you remember MySpace?  It was THE social network before Facebook came along and became THE NEW network.  Then there is the term "microblogging" and Twitter is the top social network in this genre featuring updates under 140 characters.  We even have specialized social networks now.  For business and networking we have LinkedIn where you can connect with other professionals and grow your network.   Are you a visual person?  Then Pinterest is the social network for you.  Pinterest started out being primary used by women but now has a universal appeal and small businesses are using it to promote their business.
I use all of these social media services to promote my blog and my business.  When it's your business, you have to post consistently and smartly.  That takes a lot of time.  Automation is the key and I've been looking for a service that would let me schedule posts to my networks (and Pinterest in particular).  Well, today I'm reviewing a service called Viraltag.  Viraltag calls itself a "Marketing Platform for Visual Content". That's a great description and I wanted to try it out to see if it lives up to it's claims.  I tried Viraltag for several days to see if it helped me take charge of my social marketing.
How It Works
The first step when signing into Viraltag for the first time is to link your social accounts.   You can link Twitter, Facebook Profile, Facebook Pages, LinkedIn, and Pinterest.  Linking is painless and takes just a minute.
Now it's time to post some images.  I decided to post a days worth of Facebook page posts for this site.  I don't post that often mainly because I forget.   So this could be my solution.   When you go to post you are given the option to add images from your computer, Flickr, Instagram, Facebook, Picasa, or by URL.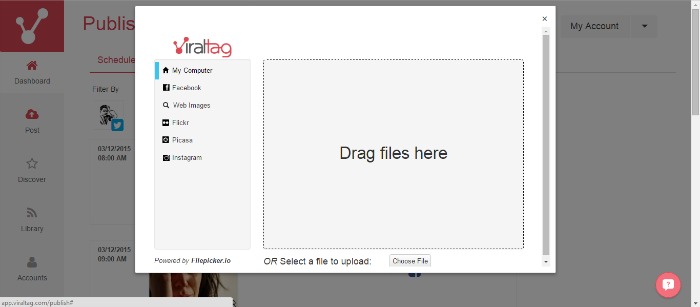 I had the images on my pc so I just uploaded them using the drag and drop tool.  Once uploaded I was able to add a unique description for each image and choose which social network(s) to post each to.  You can also set what date/time to begin posting then space the posts out evenly by any number of minutes/hours you like.   So I was able to quickly schedule six hours worth of Facebook posts to my page.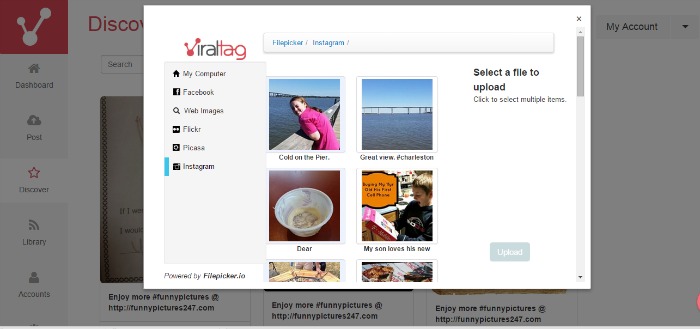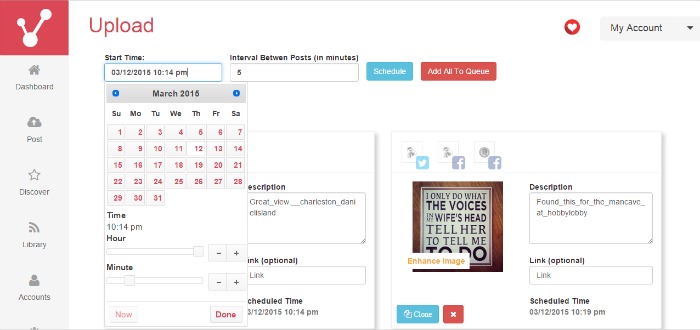 Now, scheduling to Pinterest is the feature I'm really looking forward to using.   The process is the same.  I uploaded my images and chose a link for them (a page on my site).  Then I selected Pinterest and chose the date and time to post.  It really could not have been easier.
Viraltag works great for scheduling and posting your visual media to your social networks but what about finding other content to share?  This is where the discovery menu option comes into play.  You can  select a category and find images from other users to share to your social network.  My guess is that as the service grows the selection will also.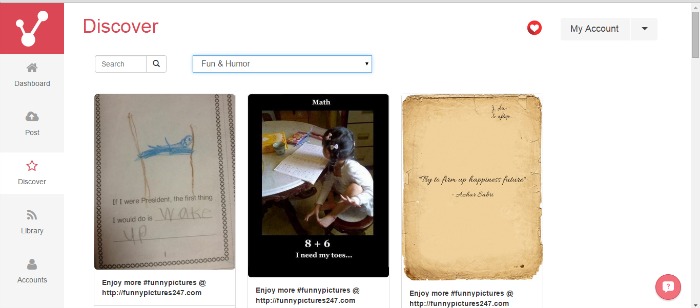 I think this is one of the great features of Viraltag.  I love being able to easily discover and share great content along with my own content.   I think we all know that you need to mix in other content with your own on Pinterest and Facebook in order to grow your following.
Ok, so here's a really cool feature that I just found and I love it.  Viraltag has something called "Library".  What the Library does is allows you to link your photos sources and easily post from them.  For instance, I linked my Instagram and Flickr accounts as well as any RSS feed.  I have an auto transfer feature which sends all photos taken on my phone to my Flickr account.  Now I can easily share these photos in Viraltag without having to upload them from my phone to my pc then to Viraltag.  I just select Flickr and choose the photo and voila!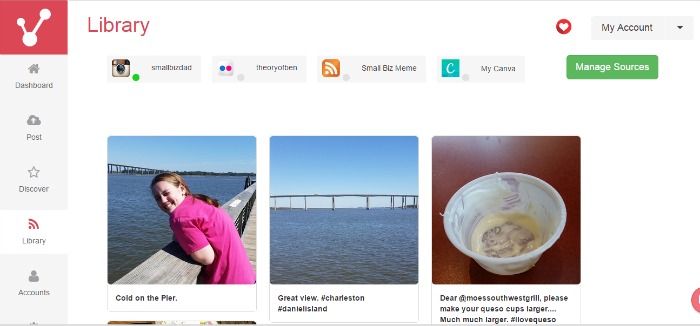 The Cost
Viraltag is a paid service with a free option.  See the feature comparison below:
Free Plan
3 Social Profiles (FB, Twitter & Tumblr)

Up To 200 Posts per Month

Content Discovery Option

1 RSS Feed
Pro Plan $29/month
10 Social Profiles

Unlimited Posts

Content Discovery

5 RSS Feeds

Web Widgets
Business Plan $99/month
25 Social Profiles

Unlimited Posts

Content Discovery

25 RSS Feeds

Web Widgets

3 Team Members
As you can see, the free plan gives you a good amount of options.  But if you want to post to Pinterest (which is what I really like) then you need to pony up for the Pro plan.  But let's be honest, if you're posting enough to need a scheduler then $29/month is very reasonable.  The business plan is perfect for a larger company or a social media manager with multiple clients.
Wrapping It Up
So, after using Viraltag for a week or so I see how much time it can save you.  It saved me hours in just the short time I have been using it.  The ability to upload content from multiple sources makes planning your posts painless and simple.  Mixing in your own content with others using the Discovery feature can help you diversify your social content.  And the Library feature makes it very easy to post content on the fly.  I love having my Instagram and Flickr accounts at my disposal for sharing to Pinterest.
Viraltag offers a free 7 day trial for all of their accounts so give it a try and see what you think.
[button link="https://www.viraltag.com" color="blue" text_color="white" size=" large"] Check Out Viraltag [/button]