Are there any Dropbox users in the house?? Raise your hands…yes you and you and you…and me.  I have used Dropbox for quite a while and love it.  Now LogMeIn has come out with Cubby, a cloud storage and file sync service.
Cubby
The way Cubby works is that it creates a "My Cubby" folder similar to Dropbox where you can place your files.  The files are then synced with your other devices and Cubby's cloud storage.   You can also sync other folders by right clicking on them and selecting "Make this folder a Cubby".    You are given 5GB of free cloud storage space to store your files and folders.   You can then access your files on your other devices with Cubby installed and on Cubby's web site.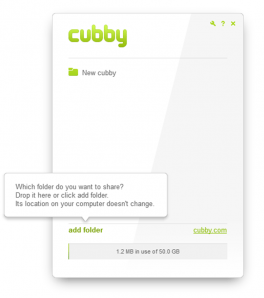 What's The Difference
Here's the big difference and the reason that I may be moving everything to Cubby from Dropbox.  With Cubby, you can sync unlimited data between computers.  You basically turn off cloud storage for any folders you want and Cubby will sync those folders between your devices for free and not store a copy on the cloud.  I said Unlimited…you heard me right.  So I can technically sync my entire music collection between devices…for free.
Now, the only disadvantage is that the files would not be available via the Cubby web site.  But I honestly very rarely use the Dropbox website to access my files.  I have it installed on my phone, tablet, and all computers.  So this isn't an issue.  And you still have the 5GB of cloud storage which you can use for critical files that you may need via the web.
This is a game changer for me.  Here's a scenario:  I have a folder of important business docs that I don't really need on the web.  So I choose the sync only option for that folder and then tell Cubby to sync it with my work laptop, my work desktop, and my smartphone.  I have another folder with videos, I set that folder to sync only with my tablet and laptop.  I can choose which devices to sync each folder to.
Sharing
No cloud storage service is complete without the ability to share.  Cubby delivers here also.  You can send share links to specific files.  The access is read only, so the person you sync with can only download the file.  They cannot change your original version.  Also, you can set up a shared cubby with colleagues.  They will be able to read, add new items, and edit items in this cubby.
Cubby is a promising service.  It is from LogMeIn which is a service I could not live without.   Cubby is currently in private beta but you can request an invite by going to http://www.cubby.com and entering your email address.
I have 2 invites left and will give them to the first two people who leave comments on this post requesting one.
Cubby is available for Windows, Mac, iOS devices, and Android devices.