I have this great idea for a website…no seriously…IT'S A GREAT IDEA!!! Can't you tell that I'm a little excited about this?  I would tell you my idea but it's such a great idea I know someone would steal it.   So, I have my domain name registered and I have my own hosting company.  All that's left is to design the site.  I usually do this myself but this is such a great idea that I think I need to hire a professional.  Custom design work can be expensive.  Do you know how much the logo for the London Olympics cost?  Over $600,000….yes, that's a comma and not a period.   So, did you see the third word in my name "DAD".  I have three little mouths to feed and typical designers charge out the wazoo (that's a technical term).  What's a Small Biz Dad to do?
This is where crowdsourcing comes in.  What's crowdsourcing you ask?  Well, crowdsourcing is basically getting work done using a group of people (usually online).   For this project I have decided to head on over to DesignCrowd, which is the #1 market for design online.  DesignCrowd is a global crowdsourcing site so you get access to designers from all over the world.  I think this is a huge benefit since you can see different perspectives and you don't end up with twenty designs that look identical.
The whole process at DesignCrowd couldn't be easier.  You sign up and post your brief (that's just a description of what you are looking for).   Next you set your budget based on how many designs you want to receive.  Then you start getting designs submitted from designers all over the world.    I love this because, unlike other crowdsourcing sites, you actually see the design and not just a proposal.  Once you choose a design, then you can communicate with your designer for unlimited revisions.  Once you get the one you want then you download it directly.  Very easy!
Logo Design
I usually try to start a new site with a logo as my first component.  The logo is usually the first thing a visitor sees so a great logo is very important.   Below are some examples of logos designed by designers on DesignCrowd.


As you can see, these aren't cookie cutter logos.  You can see more examples on the DesignCrowd website.   Here's a really cool thing, if you see a particular logo you like…you can click on it and find out which designer created it.  Then go to their page and hire them.  This is great if you have a very specific design you want.  Personally I want to have a larger selection of designs from different designers.  DesignCrowd has over 400,000 designers so I'm likely to get a logo I love.
Website Design
I'll admit that I usually pick a generic theme and then modify it to my liking.  But this new site is too important to trust to my color blind design (yes, I'm color blind).   So I'm going to use crowdsourcing at DesignCrowd for the website design as well.   WordPress is my platform of choice and DesignCrowd features a ton of talented WordPress designers.  See some examples below: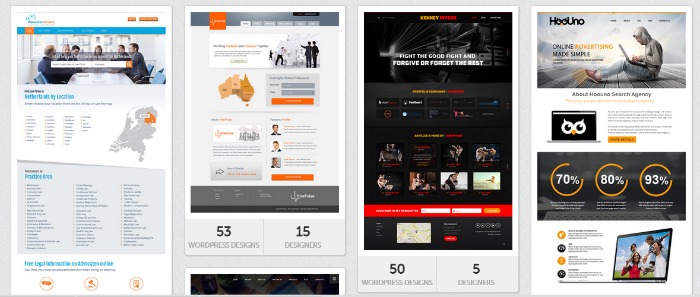 A great benefit with DesignCrowd is that I won't have to wait weeks to start seeing designs.  You start getting designs in just a few days.  This is important because my website idea is hot off the press and I want to run with it as soon as possible before some of you (yes YOU) steal my idea.
DesignCrowd has paid out over $20 million in designer payments since it's founding and DesignCrowd's top designer has earned over $700,000 in 4 years.  Designers can also win money by getting good reviews from their clients.  All of this contributes to quality designers producing quality work.  This means I have complete confidence that I'm going to get an awesome design for my new fantabulous (it's a word) site.
I have to go now to choose the design for my new site which is going to rock the world.   But first I have to put my kids to bed and check their homework.
Do you have any stories of launching a website?  Leave them in the comments below.