A major theme of this site is productivity.  As a small business owner and consultant, time is critical for me in many ways.  So any app that can help me be more productive is worth it's weight in gold.  There are many task management/to do list apps out there but many of them fall short of the mark.
Today I'm looking at Todoist, a task management/to-do list app for Android, iOS, Web, Windows, and Mac.  Todoist comes in a free version but I'll be reviewing the premium version today.  The current cost of the premium version of Todoist is $29/year.  That's pretty reasonable when you look at the costs of other premium apps in the same category.  I am giving away a few promo codes good for 1 year of Todoist…see the bottom of the article for how to enter.
So, the first thing I notice about Todoist is how clean the layout is.  There are no unnecessary graphics or flashing lights.  Instead you have your tasks for the day listed with the project list on the left.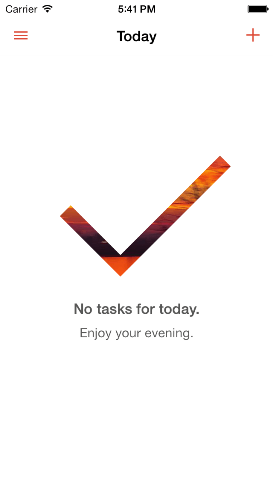 The premium upgrade allows you to add notes to tasks.  This is very useful for me.  I have a project set up to track which clients have subscription accounts with me.  I add a task for each client and make the due date recurring.  I then add task notes with details on the account.  I add a reminder for 1 month before the due date to remind me to invoice the client.  When I mark this years task complete, Todoist automatically adds next years task.  This has saved me a great deal of hassle in not having to keep up with a spreadsheet of accounts.
Another nice feature of Todoist is that there are plugins for certain email clients.  There are Outlook, Thunderbird, and Gmail plugins.  I use Gmail and this allows me to add tasks from emails.  I receive emails every day from developers asking for reviews.  If I want to do the review I can simply add the task from within Gmail and then it shows up in my pending reviews project.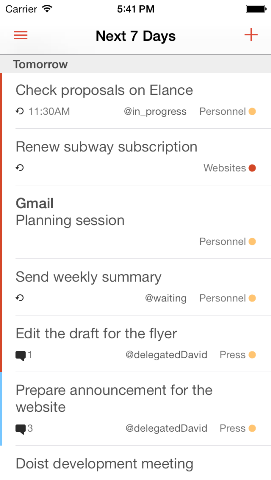 Todoist Free Features
Synchronize Your Apps Across All Devices – This is absolutely essential.  With today's technology, we must be able to see out data on all devices laptop, tablet, and smartphone.  Todoist does this with ease.
Save Your To-Do List To The Cloud – Todoist does this by using their cloud version todoist.com.
Unlimited tasks and sub-tasks – a great feature for a free app, Todoist doesn't limit you the way some apps do.
Organize your tasks with features such as due dates, recurring dates, sub-tasks, task priorities, and colored projects. – recurring tasks and sub-tasks are essential for me.   
Organize Projects by Using Sub-Projects – Sub-projects in Todoist allow you to break up larger projects for better organization
Todoist Premium Features
Reminders via SMS, email, or push notifications on mobile – This alone is worth the price of the premium upgrade.  I use the SMS notifications for items I can't afford to forget.
More organization using task notes, colorable labels, and powerful filters – I don't use the labels as much but I love the task notes and filters.
Track Your Productivity on Todoist.com – See your history and how productive you have been
Task Files and Attachments – attach relevant files to your tasks
Much More
As you can see, Todoist offers a lot of bang for the buck.  Now, before I start sounding like a commercial for Todoist let me point out that I'm still a big fan of Any.Do and still have it on my phone.  However, the amount of features with Todoist makes it my current task list manager.
I was so excited about Todoist that I reached out to them and told them that I had written a review and would like to reward my readers with some promo codes.  So, I have a few promo codes good for 1 year of Todoist premium (that's a $29 value).  To enter the drawing, simply do the following:
1) Like Small Biz Dad on Facebook
2) Leave a comment below.
I'll choose three random winners on Monday 12/9/2013 and notify the winners via Facebook or email.