I hate shopping.  I just wanted to get that out there and be upfront and honest.  I didn't get married until I was in my early thirties so I had plenty of experience doing my own grocery shopping.  Now, I'll admit that, as a single man, my purchases were a bit simpler than now.   Frozen pizzas, chips, soda, and Hungry Man dinners aren't exactly appropriate meals for three kids.
I always hated grocery shopping primarily because there are too many people and too many shopping carts.  So I usually went in like the typical guy and grabbed exactly what I needed then exited as quickly as possible.  Flash forward to today, I have lots more experience shopping for a family and taking my time to ensure I get exactly what we need for the best price.  My wife does the majority of the grocery shopping but I still get in there from time to time.
Today I'm looking at three apps that make grocery shopping easier.  Modern technology is great and I firmly believe in using it to make life easier whenever possible.  So take a look at these three apps.
Grocery IQ 
Grocery IQ is a grocery shopping list app.  Grocery IQ has a web interface as well as Android and iOS apps.  With Grocery IQ you can add items quickly from their database by searching or even scanning a barcode.  One feature I love is the aisle feature.  You can create custom aisles to match the aisles of the stores you shop at.  This can save tons of time by grouping items by the aisles they are on in the store.  For a guy who wants to get in and get out as quickly as possible…this is a winner.   The ability to create and sync multiple shopping lists makes this app very useful.
---
Farmstand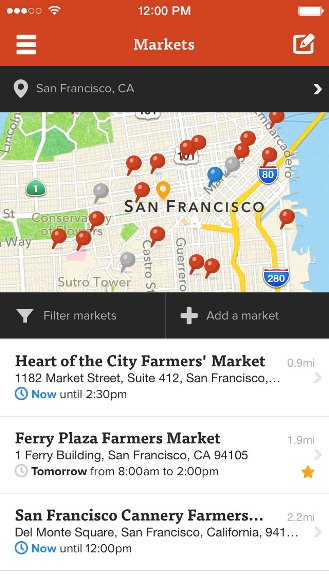 If you like buying your produce directly from the people who grow it then Farmstand is a great app for you.  With Farmstand you can find the closest farmer's markets and view all of the details such as operating hours, directions, and photos uploaded by other users.   Farmstand has great social integration which lets you share your photos on Facebook and Twitter.   If visiting farmer's markets is your idea of grocery shopping then try out Farmstand.

---
SavingStar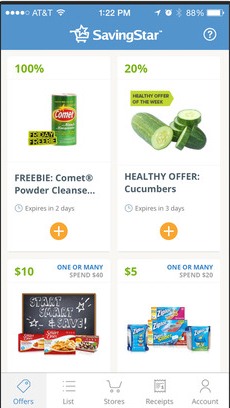 If you're like me then you need to save money anywhere you can.  My wife does a great job with coupons but  SavingStar takes it to a new level.  SavingStar lets you link your loyalty cards and then apply digital coupons to those cards right in the app.  This eliminates clipping coupons (and having to remember to bring them).   Here's the great part, SavingStar actually pays you to shop.  If you buy certain products/offers then they will credit your account a small amount.  For some stores you have to scan your receipt but for others it's automatic.  After you reach the minimum threshold you can cash out your account via Paypal, bank account, or even donate to charity.  If you're buying for a large family then SavingStar may save you a good deal of money.
Have your own favorite apps or cool grocery shopping ninja skills?  Let me know by leaving a comment below.