Running your own business can be stressful.  So sometimes you have to find a way to relax so that you can still get the job done.  We've all been there before…dead tired and not able to focus or concentrate on the task at hand.  I've had too many business trips that involve me lying in a hotel bed looking at the ceiling at 3am  and not able to sleep.  This is usually because I am so uptight over what I have to do the next day.
So today I'm looking at relaxation apps for Android.  There are quite a few of these relaxation apps but many of them aren't very good.  Too many of them are just classical music or water sounds.  I've tried to pick 3 good relaxation apps for Android that may actually be useful for you.
1. Relax Completely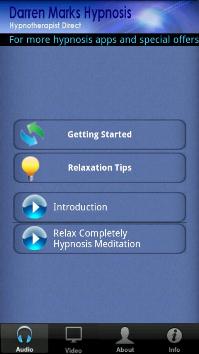 I have to admit that I had my doubts about this app.  I'm not a big believer in hypnosis.  But after using this app just once I was extremely relaxed.    This is one of my favorite relaxation apps.   This is a free app from hypnotherapist Darren Marks.  He also has several paid apps that you can purchase on the app store.
Features
The powerful hypnosis meditation audio session Relax Completely.
A choice of beautiful, relaxing video animations to run with the audio program
Video interviews to help you understand and feel comfortable with the process and to simulate as closely as possible what its like to see Darren in person
Additional tips for relaxation and reducing stress
Relax Completely on Google Play
2. Relax & Sleep by Glenn Harrold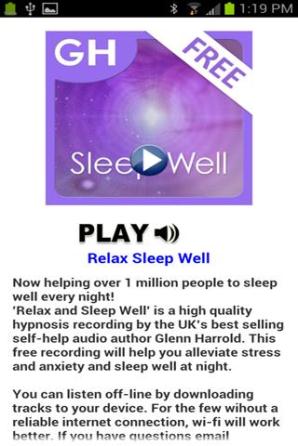 Here we have another hypnosis app.   I think it's interesting that both this app and the previous are from UK hypnotherapists.  This relaxation app is very similar to the previous…but it is a good one. I'm thinking maybe use both apps and alternate between using them so they stay fresh.
Features
A Powerful 27-minute Hypnotherapy session – Ideal for bedtime listening
The very latest hypnotherapy techniques and state-of-the-art digital recording technology.
Glenn's highly acclaimed hypnotic vocal techniques guiding you into a completely relaxed state of mind & body.
60 b.p.m. background sound effects recorded in specific musical keys and frequencies to compliment the hypnotic suggestions and deepen the relaxation effect.
Stereo-echoed affirmations, which pan from ear-to-ear across the stereo range – a deeply relaxing and unique effect.
Relax and Sleep on Google Play
3. Qi Gong Meditation Relaxation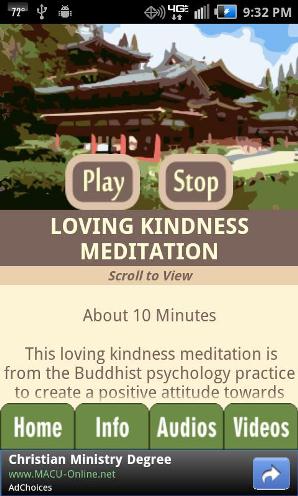 This relaxation app goes in a different direction from hypnosis.  This app teaches you about meditation and includes links to relaxation videos and it even has some relaxation audio.    This is a good app to learn  Qi Gong meditation.
Features
Learn About
Meditation & Relaxation
managing stress
cognitive-behavioral therapy (CBT)
Qi Gong meditation videos (link to Excel At Life's YouTube channel)
Relaxation audios
Meadow
Mountain Cabin
Day on the Farm Mindfulness
Magical Forest for Children (and the young at heart)
Rainbow Emotions
Cloud Castles for Children
Sunrise On the Beach
Lotus Flower
Meditation Audio
Loving Kindness
Compassion