Have you heard of Kickstarter?  I don't see how you couldn't have heard of it.  There have been several high profile Kickstarter projects over the last year or so.  Kickstarter is a form of crowdfunding….which means that you draw funds from many different people.  To simplify it, you post your project with a pitch of what you need money for and then you define "rewards".  Usually the rewards include being one of the first to get the product.
I've looked over Kickstarter and found three projects that should appeal to parents.  These projects feature products that can help you make your life as a parent easier/better.  Without further ado…here they are.
Meld: A Perfect Meal Every Time
How many times have your burned dinner?  Our oven runs around 50 degrees hotter than the dial says. We have learned that the hard way.  Meld is a Kickstarter project that aims to make this easy.  Meld is made up of two components: the Meld dial replaces one of the dials on your stove and the Meld clip attaches to your dish and monitors the temperature via Bluetooth.   The cool thing about Meld is that it automatically adjusts the heat to maintain the perfect temperature for your dish.  Meld also has iOS and Android apps which allow you to manually adjust the heat via your phone.  I could see this being very handy for that busy mom or dad who is trying to cook while doing ten other things around the house.
Bruno: The World's First Smartcan

Bruno is a Kickstarter project that will help you keep your kitchen tidy. Bruno features a vacuum in the front which allows you to sweep your dirt up to the front of the can and Bruno takes it from there.  But that's not all Bruno does.  You will get notifications when you are low on Bruno bags (it also accepts standard 13 gallon kitchen bags) and notification when it's trash day.  I know that's a huge problem at my house.  It's my 11 yr old's job to take the can to the curb and he always forgets on trash day.  Bruno also features hands free opening…just wave your hand over the lid and it opens automagically.  Pretty cool.
SnapPower Charger: A USB Charger in a Cover Plate – No Wiring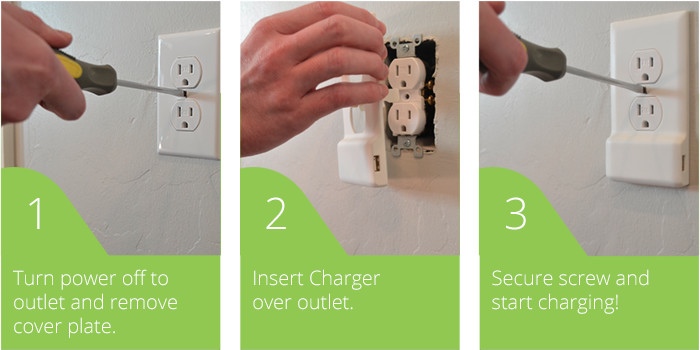 The SnapPower Charger installs easily over your existing outlet and adds a USB charging port.  I'm not sure about you but we have at least 8 devices that charge via USB.  I could see buying several of these and placing them in the kids rooms and the kitchen.  Installation looks very easy and even I could do it.  It's certainly worth a look.