What do you use for email on your Android device?  Do you have a favorite Android email app?  I personally use the stock Gmail app since all of my accounts are either straight Gmail or Google Apps for Business.  But some people like to use other email apps on their devices.  There are many reasons for searching for an alternative Android email app.  You may be looking for more features or a different UI.  Most of the time it's because you aren't using Gmail.
So here are 5 Android email apps that you can use as an alternative.
1 – Aqua Mail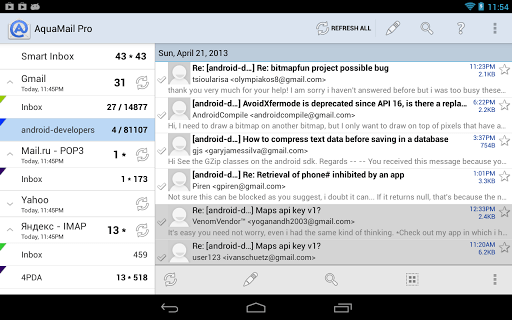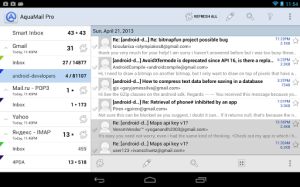 AquaMail is an Android email app for Android 2.1 and higher.
Easy automatic setup for popular email services (Yahoo, Hotmail, Gmail, and more).
Support for many other email services via standard Internet email protocols: IMAP, POP3, SMTP. This includes many corporate email servers, such as Lotus Notes and Exchange, provided that the administrators enabled IMAP/SMTP (no support for ActiveSync or EWS).
Push mail (IMAP IDLE, instant incoming email delivery) for those servers that support it (Gmail, GMX and more).
Plays well with other email programs that you may be using to access your IMAP mailbox. Uses existing folder structure, can synchronize drafts, sent, and deleted messages.
[pb-app-box pname='org.kman.AquaMail' name='Aqua Email' theme='light' lang='en']
2 – K-9 Email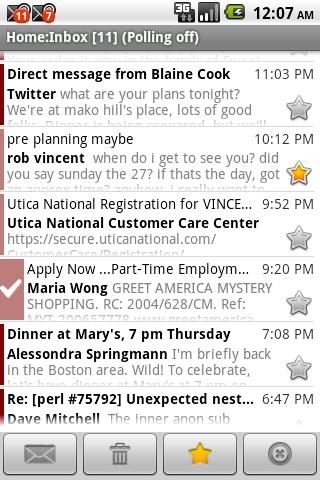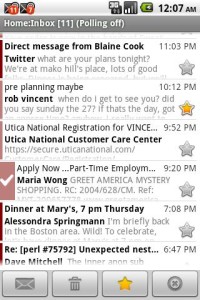 K-9 Mail is an open-source e-mail client with search, IMAP push email, multi-folder sync, flagging, filing, signatures, bcc-self, PGP, mail on SD & more!
K-9 supports IMAP, POP3 and Exchange 2003/2007 (with WebDAV).
[pb-app-box pname='com.fsck.k9′ name='K-9 Email' theme='light' lang='en']
3 – MailDroid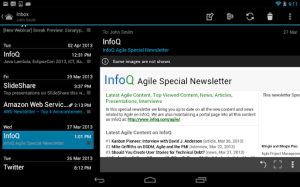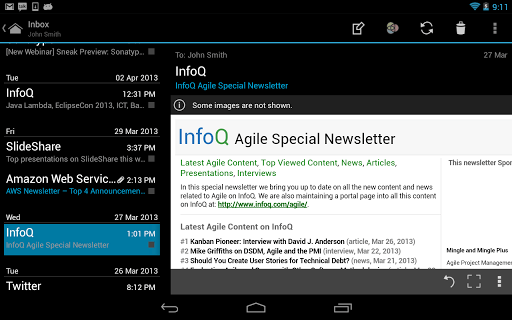 MailDroid is an ad-supported Webdav/POP3/IMAP Idle Push email client written from the ground up and and not based on the stock Android email client.
MailDroid has all the features you could want from a mobile email client and it continues to be built around user feedback. With the ability for IMAP users to sync draft mails, sent mail, deleted mail based on when they are on wifi or mobile as well as pop3 preload capability, MailDroid was built with mobile data in mind from the start.
[pb-app-box pname='com.maildroid' name='MailDroid' theme='light' lang='en']
4 – Enhanced Email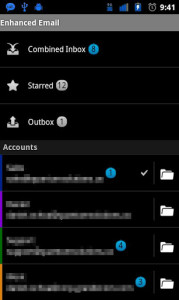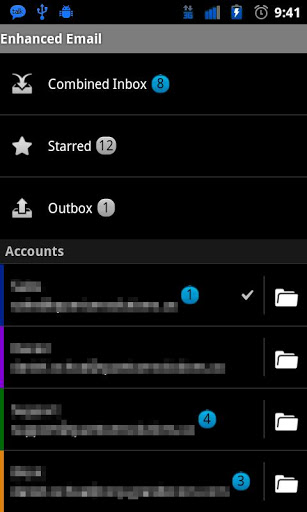 Enhanced Email is a fully featured but lightweight Android  email client that can easily aggregate all of your e-mail accounts into a single location. Whether you are a regular e-mail user just needing to keep in touch with friends/family or a power business user needing to synchronize calendar/contacts/email with your Exchange server, Enhanced Email is the only application you will need.
[pb-app-box pname='com.qs.enhancedemail' name='Enhanced Email' theme='light' lang='en']
5 – GW Mail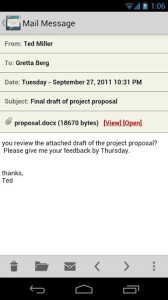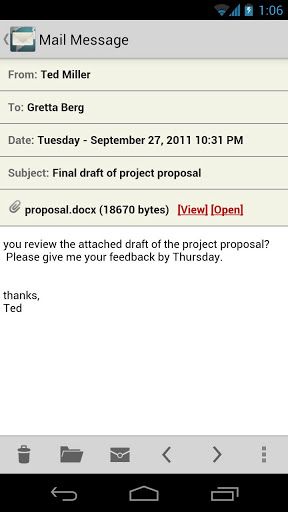 GW Mail is an android email client for Novell GroupWise. With this app you get a much better interface than Novell delivers by default through GroupWise WebAccess. This app gives you some of the enterprise features that you would not get with simple POP/IMAP – like access to your Frequent Contacts and GroupWise address book.
[pb-app-box pname='com.ghostpattern.gwmail' name='GW Maill' theme='light' lang='en']