You may think the title of this post is a bit melodramatic but you'd be wrong.  My family and I took a short family vacation to Amelia Island last week and it started off a bit rocky.  Before I get ahead of myself, here's a little info on Amelia Island.  Amelia Island and Fernandina Beach has long been one of my family's favorite vacation spots.  It's located in Northeastern Florida just below St. Mary's Georgia.   Fernandina and Amelia Island is a bit different than you typical vacation spot in Florida.  The main reason we love Amelia Island is the fact that it is so laid back.  You never feel rushed and the crowds aren't that bad at all.
So, back to my story.  We had a short two hour drive from our house in Savannah to Amelia Island.   We started the day by checking into our hotel and then driving around a bit checking out rental houses for next years trip.  Then we hit the store to pick up some supplies (water, snacks, flip flops).  It was around then that the kids started acting liked inmates.  They began arguing with each other and giving us major attitude.  It got to the point where we told them we were going to go home the next day if they didn't change their attitudes.    We were eating dinner when one nasty comment from the oldest to the middle child broke the camel's back.  I told them that we were leaving the next morning and cutting our vacation short.
We had a sunset cruise reserved with Amelia River Cruises at 7:30 pm so we made our way towards downtown Fernandina and the marina. After parking we located the ticket booth for Amelia River Cruises and I picked up our tickets.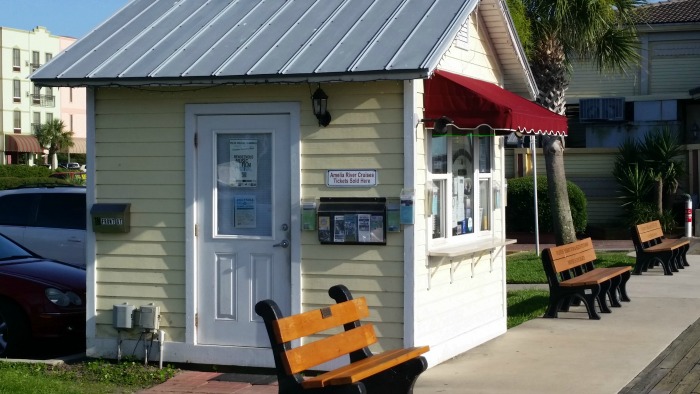 The kids were still grumpy but they began to perk up once they saw the boat we were going to be taking.  Amelia River Cruises has two boats "Miss Kaylynn" and "Bald Eagle".  We were going to be using "Miss Kaylynn" for our river cruise.  We gave our tickets to the gentleman and boarded the boat.  The kids were actually smiling a bit.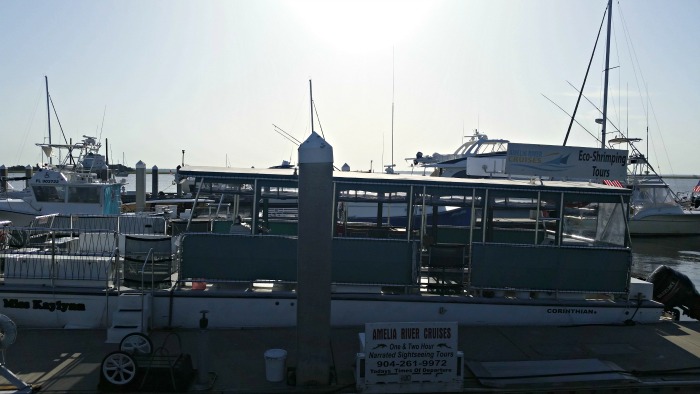 After the required safety talk from the Captain, we were off.  The tour guide began telling us history of the sights we were sailing by.  The sunset cruise is only an hour long but they packed a lot of history in it.   As we headed down the St. Mary's River the kids were smiling, laughing, and even talking to each other….amazing.
As we made our way out the Captain pointed out some dolphins swimming just off the side of our boat.  This really got the kids attention and everyone was really excited about being so close to some dolphins.

It's hard to beat dolphins but next we came near to Cumberland Island which is famous for it's wild horses.  As luck would have it, there were a few horses on the beach and we were able to get some good photos of them.  The tour guide gave us some great info about the horses such as why the park service doesn't need to limit the population. (I'm not going to ruin it for you)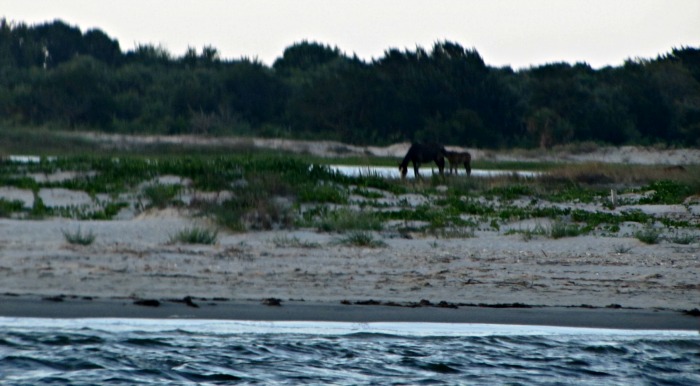 Fort Clinch was next and the tour guide told us some good history that helped us the next day when we visited the fort.  And a scary story about how dental work was performed at the fort back in the day.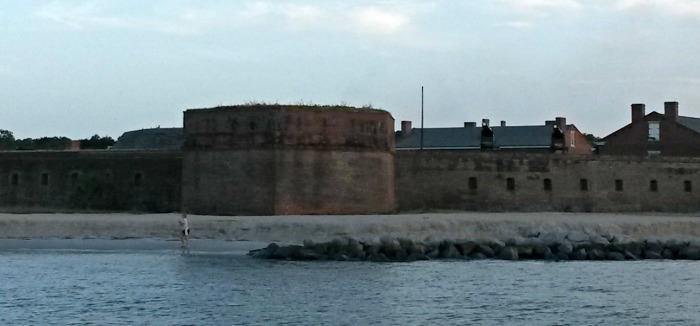 The finale was the sunset.  The main goal of the sunset cruise is being able to enjoy a beautiful sunset.  Unfortunately there was a huge cloud blocking the sun for most of the sunset.  The Captain paused long enough so we could get a glimpse of the sun as it dipped below the horizon.  My wife and I enjoyed this more than the kids.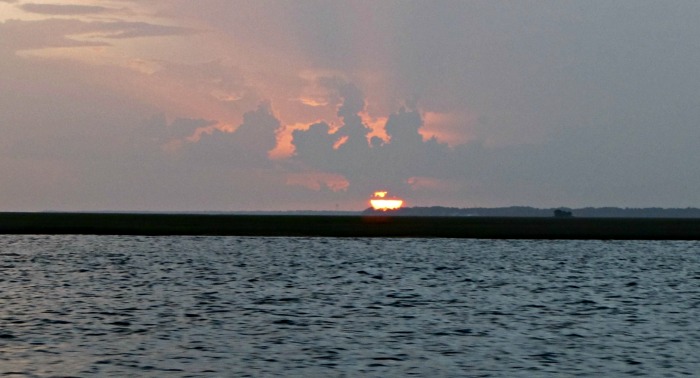 I have to say that taking the Amelia River Cruises saved our vacation because after this sunset cruise our kids were completely different.  They were laughing, having fun, and talking about how much they enjoyed the cruise.  My 6 yr old asked every day of our vacation if we could go on another boat ride.  I think my 11 yr old enjoyed driving the boat more than anything (didn't I mention that part?).   The rest of our vacation was great and we didn't have any more bad attitudes.
Next time we are going to try the longer cruise that shows more of Cumberland Island. If you are going to be in the Fernandina/Amelia Island area then give the folks over at Amelia River Cruises a call at 904 261-9972….you won't regret it.