Finding the perfect gift for a loved one on a special occasion can be difficult. Trawling the shops, racking your brain and risking spending money on something they won't want. However there's one kind of gift that's pretty foolproof, and that's gadgets. Just about everyone loves them, they're fun, and they're novel. But what kind of gadgets are out on the market right now that would make cool gifts?
Kitchen Gadget
There are tonnes of great gadgets you can buy for the kitchen these days. Popcorn makers, candyfloss makers, Cuckooland.com even has a rotating stone and grill pizza oven! Even if the person you're gifting too isn't a whizz with food, these are easy to use and things that anyone can enjoy.
Fitness Tracker
If you have a fitness fanatic in your life and they're not using a tracker, they're missing out. These handy little devices look and function like a regular watch, while also tracking your sleep, your heart rate and so much more. You can see all of the information collected in easy to interpret graphs on your phone, and it can really help you to push yourself and hit your targets. You can find these at a range of price points too, so it's something you could go for even if you don't have an enormous budget. Do some research online and look at different brands and models to see what they can do.
Smart Speaker
The Amazon Echo has done very well in sales this year, and with other smart speakers such as those by Google and Apple being released,  more and more people are reaping the benefits of what they can bring. They allow you to control everything from lights to sockets in your home using just your voice. You can use them to order food, answer questions, set alarms, keep to-do lists and so much more. If the person you're buying for loves gadgets then this is sure to be something they will appreciate.
VR Headset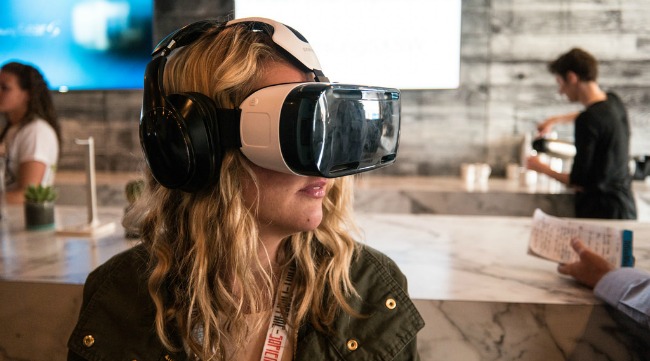 Virtual reality has been around for years, but it's only been very recently that good VR equipment has been available to buy and use at home. A fast way to really make a gamer's day, these are both fun and novel, and as more games are released, it provides endless opportunities for hours of fun.
Drone
The drone craze is still going strong and is the perfect gift for the kind of person who used to like things like remote-controlled cars and planes when the were a kid You can find them fairly cheaply, and they go all the way up to more expensive models for those who are a little more experience. You won't be short on choice, and for the right person it could be the best present they will ever receive! They're useful for creating cool shots for those who are interested in making videos as they can film, but are fun just for flying as a hobby.