In business, it's important to react to recent trends and seasonal shifts. It shows that you're a passionate business owner that understands how the world of business flows. With Christmas coming up, the next big seasonal change on your mind should be Christmas. People are going to be buying Christmas gifts, they'll be looking for deals and they'll also be attracted to stores that offer festive varieties in their product line. To help your business get into the Christmas spirit, here are a couple of considerations to think about.
Add Some Festive Christmas Decorations
It's important to dress your store up in festive decorations if you want to attract the holiday crowd. It could be something simple such as creating some decorations and sticking them to your window, or you could be elaborate and give your entire store a Christmas makeover.
Whatever you do, it's important to align your store's designs with the seasons. You could use Christmas-themed lighting to attract consumers, or you could use festive colors to be visually appealing. You can view AtkinsInc.com for more info if you have elaborate lighting plans in mind. In short, making your business look the part is the first step in bringing out the Christmas spirit in your shoppers.
Give Gifts To Your Customers
A great way to improve customer relations is to give gifts to them. The type of gifts you give will depend on the sort of business you operate, but here are a couple of examples to consider:
Give confectionery gifts.

Simple little snacks are great tokens to give to your shoppers whenever they purchase something. You don't need to advertise this, just give your customers a small box containing a customised Christmas card and a few chocolates and it will be a fantastic gesture that can improve your customer relations.
Hand out small samples.

Stand outside your retail store and hand out free samples to people passing by. If you specialise in beauty products, then make a couple of samples and hand them to people that walk by and wish them a Merry Christmas. This will get them interested in your brand, and the small sample could be enough to make them come back in the future.
Distribute coupon codes. Coupon codes

are a great way of "gifting" your customers while still making them spend some money. Coupons could be for free items like a small gift with every purchase. If you operate a cafe of or something similar, then the coupon could be for a free cup of hot chocolate whenever they purchase a cake. There are many possibilities with coupons, so it all depends on your creativity.
Offer discounts to loyal customers.

In addition to coupons, you could boost your sales by offering discounts to loyal customers. Send them emails or letters informing them about the upcoming holidays, and attach a great deal to convince them to come to your store. Not only will it make your customers feel valuable to your business, but it will improve customer relations and convince them to spend more.
Award bonus loyalty points.

You can also offer your customers bonus loyalty points. This only works if you already have some kind of

loyalty scheme

attached to your business, but it's a great way of giving back to your loyal customers.
Organise seasonal deals.

If you operate a business that relies on seasonal changes and collections (such as a clothing store) then you may want to advertise your upcoming seasonal sales beforehand. Send out emails, letters or even phone messages to tell your loyal followers that you're going to have a sale. This will increase your exposure and get people excited for the items you have on offer on the day.
Giving gifts to your customers is a fairly common way to get their attention and to convince them to come and shop at your store. The upcoming holiday season is just an excuse to shower them with more gifts for the sake of attention and growing your brand.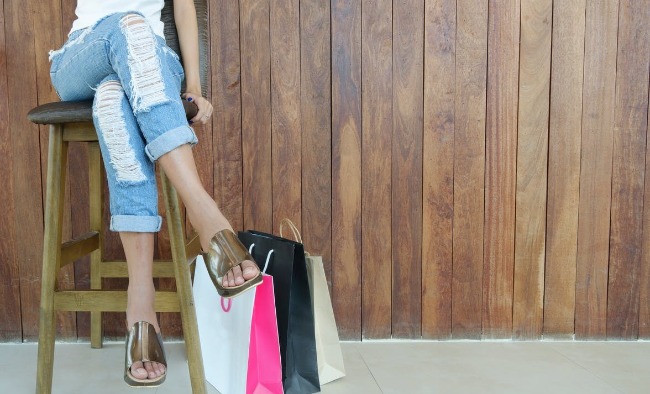 Get Your Staff In The Festive Mood
If your store is run by a team of staff, then try and get them into the Christmas spirit as well. As it gets closer to December, you can ask them to dress up in festive clothing and wish patrons a Merry Christmas as they leave the store. However, if you have members of staff that are strongly against dressing up because they don't celebrate Christmas, or for any other personal reasons, then don't force them into it. Allow them to make their own decisions and don't alienate them for choosing not to participate.
Another good way to get your staff in the festive mood is to plan your own festivities. For example, a Christmas party is a great way for your staff to relax and unwind, and it's also good for team building and getting closer with your team. However, it's still important to practice restraint. If you plan to hold a Christmas party at a venue, or just a small meet-up at a bar, make sure you don't violate basic laws like drinking while driving. It sounds obvious, but it's incredibly important to keep all of your staff members safe and ensure they get home properly. Even if it's a Christmas party, your staff are still your responsibility.
Summary
There are many reasons why you should get your business and your staff into the festive mood. It helps to create an approachable atmosphere for customers, it shows that you're able to align your brand with seasonal changes, and it can help you grow your brand as well as customer loyalty.
The free gifts and bonuses will be a huge hit with your audience, and you'd be surprised at how much more positive your staff will be if they're able to celebrate the occasion during work hours. So if you want to grow your brand and store this holiday season, think festive and get everyone on board to join the ride.