My oldest boy is eleven years old and he is all boy.  So I have been thinking about getting him a BB gun for Christmas this year.  When you talk about Christmas gifts for boys BB guns are at the top of the list.   I remember my dad teaching me how to shoot with my Daisy Red Ryder 30 years ago.   I also remember competing in shooting competitions using BB guns with my local 4H club.  So if you are wanting a BB gun, Daisy is  the way to go.  Daisy has been making BB guns for a very long time and they even have partnerships with various organizations (including 4H) where they help educated kids on BB gun safety.  Daisy educates roughly one million of America's youth a year through their Ten Lesson Shooting Curriculum about BB gun use and safety (found here).#ItsADaisy #CollectiveBias
So I headed down to my local Walmart and made my way to the sporting goods section.  It didn't take long at all to find that Red Ryder.   I quickly picked it out and I grabbed some Daisy BBs as well.  My next item was a necessity….eye protection.  Remember the classic movie "A Christmas Story"?  "You'll shoot your eye out kid!!" was the classic line from the movie.  So I found some shooting glasses and I was off to the checkout.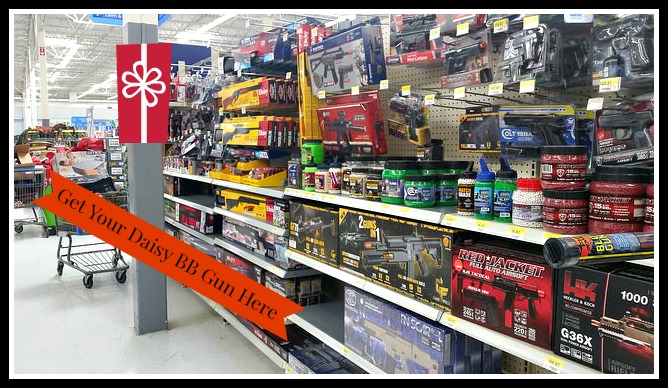 BB Catcher
Now that I had the BB gun I needed to make the next part of my gift.  One thing I always hated with my BB gun was going through BBs so quickly.  So I figured one of the best gifts for boys getting BB guns would be a BB catcher.  You can buy these but what fun is that.  I decided to make my own using items around my house and it wasn't that hard at all.  Here's what you need:
Cardboard box (around 18″ wide and at least 12″ high)
Duct Tape
(2) 2 liter bottles
Box cutter
spare piece of cardboard
This is a pretty simple design.  I cut both 2 liter bottles in half creating 2 "boats".  Then I cut the bottom off of one and the top off of the other.  I joined the two pieces with duct tape and this is my "catcher".  It's nothing fancy and it's nothing great to look at but it works and that's what matters.
I placed the bottle long ways in the box.  Now that my catcher is good I need to make my back stop.  This is where the extra cardboard comes in.  I actually covered my cardboard with duct tape to make it a more solid surface.

Next I placed the cardboard behind the catcher with the bottom of the cardboard inside the bottle.  This ensures that the BBs don't fall between the back stop and the catcher.  There are some areas on the sides that will not catch the BBs.  I could get really fancy and create a funnel shape out of the cardboard but I decided that catching 80% of the BBs would be fine for now.  Maybe I'll improve the design later.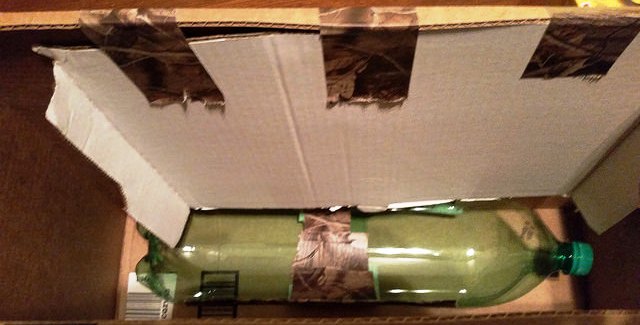 Use duct tape to secure everything.  Seriously, I think you can do ANYTHING with duct tape (or duck tape if you prefer).   The last step is to take some targets on the front of the box.  Click Here to download a target template that you can print out.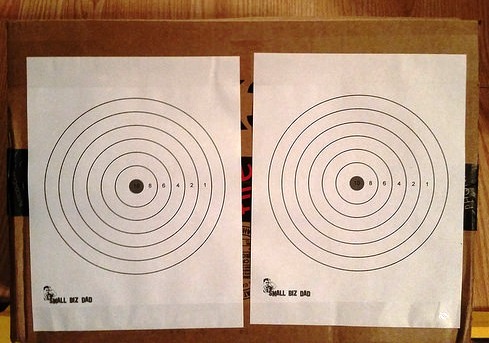 When you shoot the box the BBs go through the box (usually) and hit the backstop then drop down into the catcher.  When you're done shooting you can just grab the bottle and the BBs pour out of the spout.
My son loved the gun and he was stoked about the BB catcher since he can reuse his BBs.  The cool thing is that when your box wears out (there will be lots of holes in the front) you can get another box and place the bottle and backstop inside of it.  We did a test run and the catcher caught 7 out of 10 BBs.  Not bad and would have been better if we were better shots.  I'd say that's a pretty good catch rate for a homemade BB catcher (especially one that looks like ours).
About Daisy
In preparing for this post I did some research on Daisy and was very impressed with what I found.  Daisy has portable, inflatable gun ranges which they bring to special events and sporting goods stores.   Many of the people who shoot at these events are first time shooters.  Daisy is very committed to educating people on shooting safety.  To this end, they partner with many organizations such as 4H, Royal Rangers, NRA, and various scouting organizations to teach safe shooting.  Check out Daisy on Facebook and Twitter for more information.
Giveaway
I've really enjoyed spending time with my son teaching him to shoot with his new BB gun.  I personally think that a BB gun is one of the best gifts for boys that you can get.  So I am doing a giveaway in association with this post.  I don't do a lot of giveaways here on my blog but I think this one is good.  I'm giving away a $100 Walmart gift card so that you can purchase your own Daisy BB Gun and accessories.
The giveaway will run for 2 weeks and end at Noon on December 1st.  Giveaway is for US residents only (sorry Canada).  One quick note, the gift card will not arrive before Christmas so plan accordingly.
a Rafflecopter giveaway