Unfortunately, certain parts of the U.S. and Canada seem to be prone to natural disasters. Over the past decade there have been many reports of hurricanes, tornadoes, floods and forest fires. These disasters typically cause carnage in their wake and have been known to cause millions of dollars worth of damage to property. The vast majority of the people caught up in these disasters will have some type of insurance policy to cover them for their losses. However, for a claims adjuster or insurance professional the hard work has only just begun.
Insurance Claims Recorder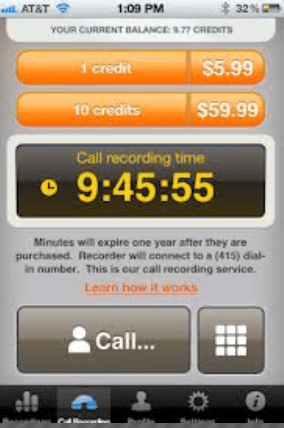 The Insurance Claims Recorder app was created by HomeTech and was exclusively developed for loss adjusters and insurance claim professionals. The app can be used to initially record claims interviews, whether these are completed in person or over the telephone. The app will securely record telephone conversations, statements from those affected by a natural disaster, conference calls and meeting with other insurance professionals.
Insurance Claims Recorder can also be extremely useful to a claims professional while they are in the field. They can use the app for dictation purposes, to take both audio and text notes, to provide live commentary of a property or area severely affected by water, fire and smoke. The claims professional can also create a number of memos directly from the app itself.
The Insurance Claims Recorder app allows claims professionals to produce a complete claims form and statement, including allocating a claims number, recording important information such as the insured person's details, the name of the interviewee and interviewer, and a separate audio file for details such as the person's relationship to the accident or insured event.
Any recorded statements that are taken via the app will automatically be uploaded and saved to a secure remote server, which can be accessed by authorized personnel at a later date. If the call happens to drop while you are using the app, there's no need to worry, as the information already recorded will have been saved and securely stored. The app also provides access to secure, web based software, which is typically used to gather all the information about a potential claim.
Availability
The "Insurance Claims Recorder" can be found in the "Business" category of iTunes and is completely free to download. It is compatible with iPhone, iPad and iPod touch and will require an operating system of iOS 4.3 or later. The app is available in a variety of languages, including English, French, German, Spanish, Italian and Japanese. The latest update fixed a few minor bugs and added some in-app credit purchases.
The app has mainly been created for digital recording and insurance transcription, and for the use of loss adjusters and insurance claims professionals. The app eliminates the need for other hand-held recording devices, and you no longer have to go to and from the office in order to speak with the insured party or to record the calls. Basically, your iPhone will complete the tasks of multiple devices, thus allowing you to both quickly and accurately complete the job in hand. This in turn will ensure that an insurance inspection and the overall claims procedure can be completed in as little time as possible.
https://itunes.apple.com/app/id531546247
Author Information:
Ken Rogers, the author of this post is a general manager by profession. He is currently working for Steamatic, which is Restoration Company in Canada. He is a very friendly individual who enjoys interacting with people. For more information about him and his company, click here.