This post is aimed at small business owners.  I mean, anyone can read it.  I'm not going to kick you off the page if you're not a small business owner but I'm just now sure how much you'll get out of it.  And truthfully, freelancers and consultants (and bloggers) will probably get the most out of it.  Today, I'm talking about invoicing.  When you work as a freelancer or consultant (as I do on the side) you have to send invoices so you can get paid.  I have used several different methods for doing this over the years.
I started out using the free version of Freshbooks, which I loved, but the paid version was a little too much for me and I quickly grew out of the free version.  Next I tried using Quicken Rental Property manager. I have a rental property to go along with my consulting business so this was a perfect fit.  I was able to generate invoices and track everything in one place (personal and business).  But Quicken can get tedious.  So I began looking for another alternative.  That's when I found Nutcache.  Nutcache is a free web based invoicing tool and it's awesome.  So today I'm going to be doing a review of Nutcache.
What is Nutcache?
The core function of Nutcache is invoicing.  It allows you to track clients, time worked, expenses, and more.  Nutcache  allows you to send and track invoices all in one place.  One thing that amazed me was that Nutcache is the only free invoicing app that gives you unlimited clients, projects, and invoices.  This is incredible when compared to limited free programs such as Freshbooks.  Now, lets dive into the features.
Nutcache Features
Project Management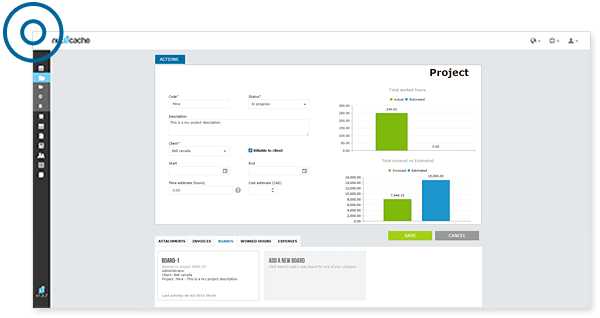 Nutcache allows you to add unlimited projects and organize them by client.  You can also allocate expenses to specific projects and then bill those expenses (along with worked time) to the client.    For me, the big feature with projects and Nutcache are the project boards.  With boards, you can give team members and clients access so you can share documents, track project status, and share the project progress.
Time Tracking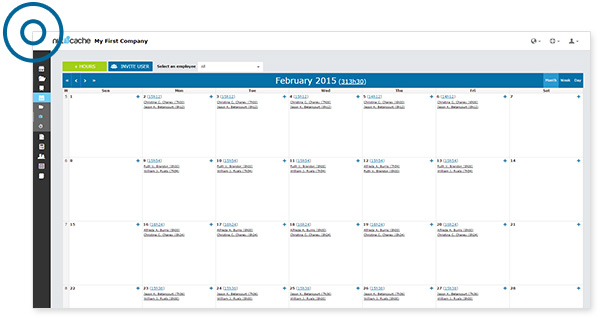 You and your employees can track billable time by using the Nutcache mobile app.  Nutcache then makes it easy to bill your clients for this time.  Another cool feature is that you can see billable time on a calendar view and filter by project or employee.
Invoicing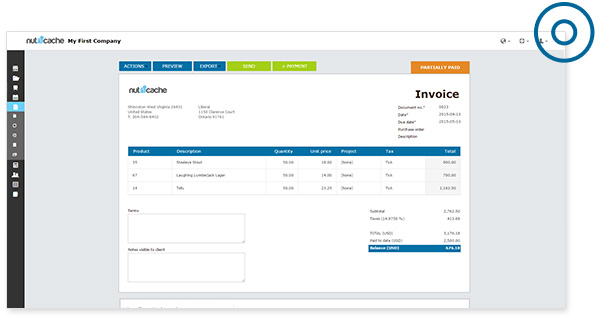 With Nutcache, you can send unlimited invoices.  I really like the fact that Nutcache lets you add your own logo to your invoices and the default invoice is very professional out of the box.  And if you have clients who speak a different languages then you can send the invoices in their language by selecting it from a dropdown list.    You can also easily convert invoices to PDF, CSV, XLS, and DOC.
Recurring Invoices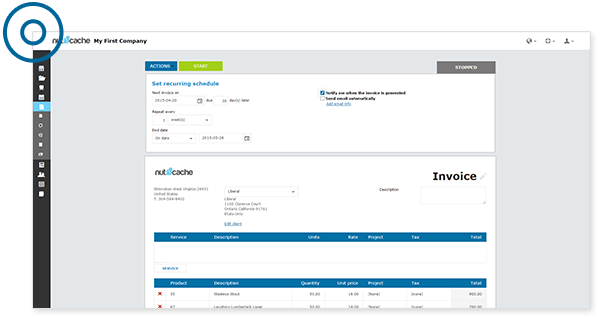 This is a pro (paid) feature and for me it makes upgrading worth it.  I have several hosting clients who are billed monthly and being able to set up a recurring invoice makes it much easier for me.    Nutcache adds the invoice on the date you set up and then sends you a reminder.  You can even set it to automatically send the invoice to the client.
Accept Credit Cards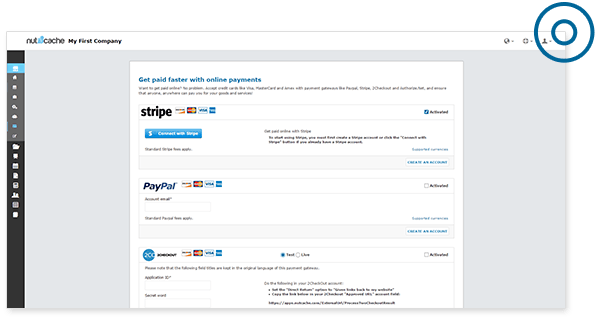 Getting paid with Nutcache is very easy.  You can accept credit cards via 2Checkout, Authorize.net , Stripe, or Paypal.   I give my clients a Paypal and Stripe option.  Stripe is a great way to accept credit cards online without having a monthly fee.  Think of it like Square for online transactions.  I love the fact that Nutcache sends me email whenever I receive a payment and then it marks the invoice as paid.
Expense Management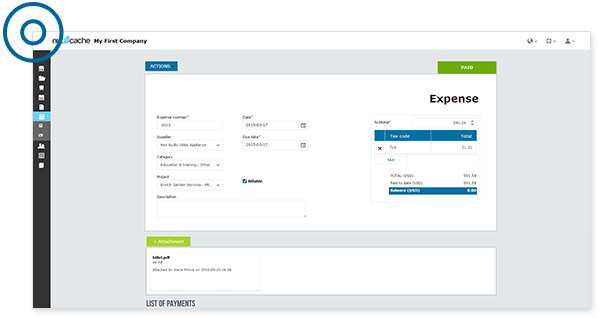 I love this feature.  With my business, I have always had trouble tracking expenses for tax purposes.  Nutcache lets you track your expenses, assign them to a client/project, and bill them to your clients.
Reports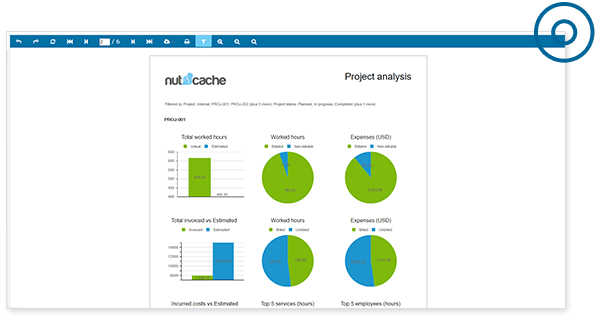 Nutaches gives you the ability to view your business data via built in reports.  It features over 30 reports to let you access your data and save you time from crunching numbers manually.  Reports include:
Customer aging
Revenue by client, product or service
Account statements
Payment history
Tax summary
Time tracking by employee or project
Project analysis
Pricing
The free version of Nutcache will let you do most things you need.  But the paid version gives you some great upgrades that make it worthwhile.  Check out the pricing details below.
2 Users
2 Companies
1 Active Board
1 Guest/Board
Unlimited Projects
Unlimited Time Tracking
Unlimited Invoices & Expenses
Unlimited Attachements
1 GB Storage
PRO with:
Unlimited Users
Unlimited Boards
500 GB Storage
Conclusion
I am a current user of Nutcache and I love it.  It has made getting paid much easier and I can quickly see who owes me money and resend invoices as needed.
The free version is full featured so head on over to Nutcache and try it out.