My son received an iPod Touch for his birthday recently and my daughter has an iPhone.  I am personally an Android guy so helping them with their iOS issues is not an easy task.  Therefore, I am always on the lookout for third party tools that help me fix problems with their devices.
That's where today's review comes in,  I will be looking at iPhone Care Pro from Tenorshare.  I am going to try iPhone Care Pro out on my son's iPod Touch and see how it performs.
iPhone Care Pro presents a very nice dashboard once you connect your device.  I like the simple layout which is a big reason I do not like iTunes.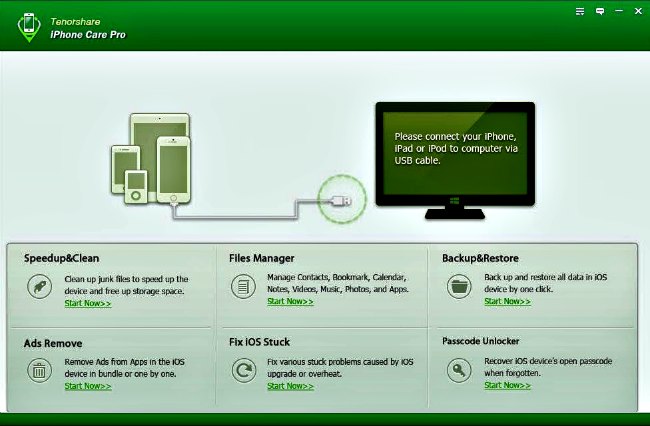 The first thing I wanted to try was the ability to view files on the device.  Usually this requires using the iTunes interface, which I am not a big fan of.  iPhone Care Pro worked great with this.  I was able to view photos, music, contacts, and pretty much anything else on his device.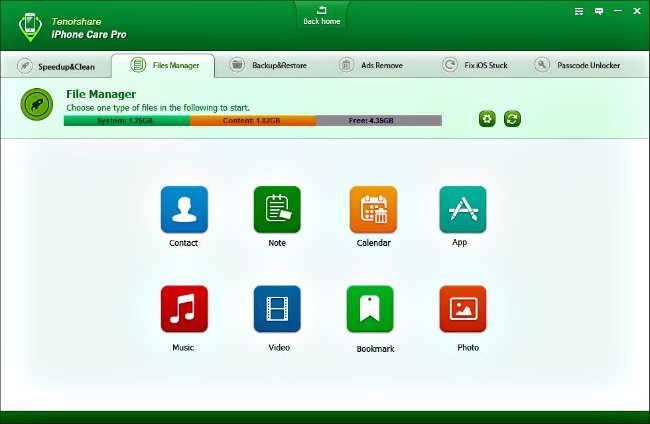 Next I wanted to remove ads from the apps he uses.  These are huge data hogs and they sometimes link to inappropriate content.  The process for doing this is super easy.  I had the iPod plugged in already and chose the Ads Remove option.  Iphone Care Pro scanned the device and listed the ads found.   I selected the ads I wanted to remove and hit the remove button.  Voila…no more ads.  I LOVE this feature!!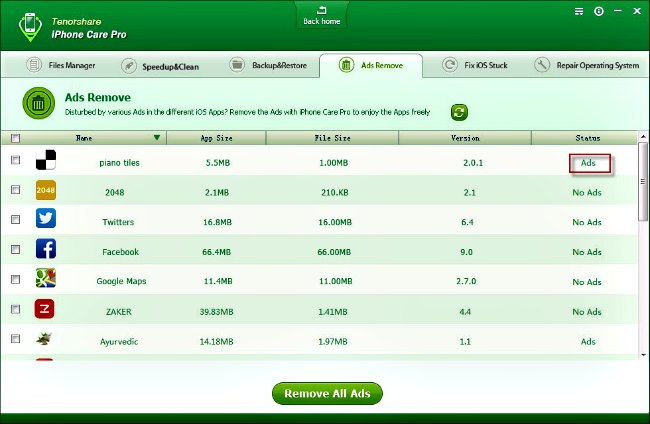 One feature I did not test (because I had no need to) was the ability to fix a device that has a major iOS issue.  This can happen when trying to do an operating system update or just randomly.  When it happens you sometimes have a boot loop where the device just boots over and over.  Or maybe iTunes doesn't recognize the device.  iPhone Care Pro has the ability to fix this and they call the feature "Fix iOS Stuck".  Simply select it from the dashboard and follow the instructions.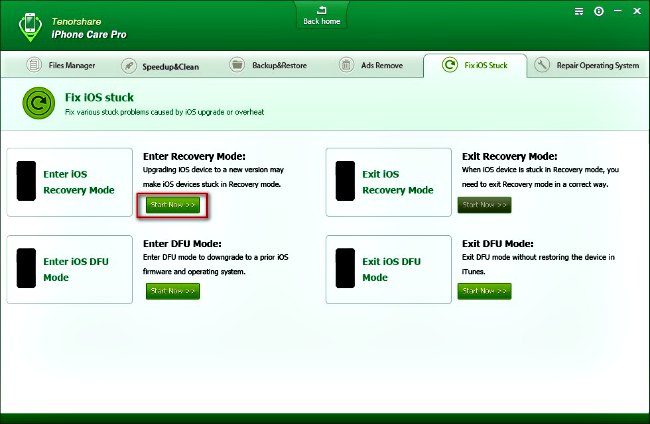 I was very impressed with iPhone Care Pro and it's list of features.  Having several iOS devices in the house makes iPhone Care Pro a no brainer.  Check out the complete feature list below.
Features
Blocks Ads
Yes, you heard me right.  iPhone Care Pro can remove only the ads from your iOS apps.  This has several benefits including: speeds up your device, reduces your data usage, prevents leaking of private information, and more.  The great thing is that iPhone Care Pro does not damage your apps, it only removes the ads.
Repair Many iOS Issues
Have you ever had a failed upgrade that left you having to factory reset your iPhone?  Well iPhone Care Pro can help rescue your iPhone whether the issue is caused by a failed update, system file loss, damaged operating system, or other issues that cannot be resolved.
Clean Up and Speed Up iOS
iPhone Care Pro lets you keep your device clean which will help speed it up.  iPhone Care Pro can clean app cookies, app crash logs, photo caches, call history, iTunes Radio caches and other junk files.
Manage and Transfer Files
Manage and Transfer files easily on your device without iTunes restrictions.
Manage: Contacts, Notes, Calendar, APP, Video, Bookmark, Photo and Music.
Add items directly to your iOS device
Find and remove duplicate or unwanted items
Transfer files from your device to your computer
Merge duplicate contacts with one click
Backup and Restore 
Backup and restore without using iTunes.  This makes it a faster process and works even if iTunes doesn't recognize your device.