[appstore id="483101556″]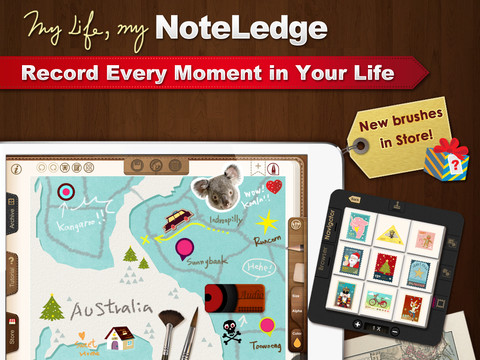 If you own an iPad and are looking for a beautiful note taking app, then you need to check out NoteLedge for iPad from Kdan Mobile Software LTD. As I mentioned in my app review of Penultimate for iPad, one reason I got an iPad was so I could get rid of pen and paper at meetings.
NoteLedge is a beautifully designed and extremely versatile note taking app. It is currently available for iOS (iPhone and iPad), Android, and Windows8. You know the app is packed full of stuff when there is a help menu with pdfs and videos.
It is super easy to hand write notes, with your finger or a stylus, in NoteLedge. You can create multiple pages organized by notebooks and of course you can create numerous notebooks.
So what can you do other than create hand written notes?
You can save your note to Dropbox, box, Google Drive.
You can email, tweet, share to Facebook or print it out
You can add videos clips, photos
You can type in text via a keyboard
There are a huge number of items you can add to the app via in-app purchases such as:
page tempates
stamps
brush styles
notebook covers
Two of the coolest features are
palm rest- it a small gray cover that you can "pull out" from the side of the app and it will protect the screen. Where ever the cover it you cannot write on the screen.
navigator/browser -allows you to crop and copy your texts, pictures and drawings and paste them wherever you like within the active area. With the browser- you can go online within the app to search the web.
I am really amazed at all the features NoteLedge has. With a current price tag of $4.99 I would say it is a no brainer if you need a note taking app with the ability to easily save and share your notes on the iPad.