Oh how I love technology.  I work in the tech field so I am all about smartphones, tablets, laptops, chromebooks, desktops, and servers.   We also know that kids in general love their electronics.  So my kids have their natural love as kids and then they get another dose from me.  My boys received Android tablets from their grandmother this past Christmas and I've noticed they are spending more and more time in front of the screen.   This sparked me to look for parental control software that could help me manage their tablet use.  After much searching I found Screen Time Parental Control for Android from Screen Time Labs.
About Screen Time Labs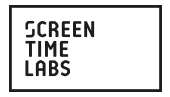 Before I get to the review, let's talk about Screen Time Labs.  The company was started by a dad,  Steve Vangasse, who was concerned with the amount of time his three children were spending on their tablets (sound familiar?).   Steve was like me and he searched for a solution.  He was unable to find one so he created one.  The fact that this app was created by a parent for parents gives me a lot of hope that it will be what I am looking for.
The Review 
When I set out looking for a parental control app I had a few needs and a few wants.  First I needed it to set time limits for the total screen time per day and I needed it to have the ability to set off limit hours.  Surprisingly it was not easy finding apps that meet these basic requirements.  Next, I wanted it to give me the ability to selectively block apps completely and white list other apps.  These white listed apps would be available any time regardless of amount of time used.  I would add The Bible app and OneDrive reading app to this list.  Lastly, I wanted to be able to let my boys "earn" more time by doing tasks.
With these requirements in mind, I ran across Screen Time Parental Controls for Android.  I looked at the features and was astounded to see that it did everything I needed and wanted.   I got very excited…then I saw something that made me know that this was a good app.  There were quite a few negative review….from kids.  I chuckled as I sat there thinking about these kids being so mad at this app that they took the time to leave a bad review.
How It Works
Screen Time installs on the child's Android device and you set a passcode.  This passcode protects the app from those little fingers.  My 11yr old tried his best to get around the app the first time it blocked him.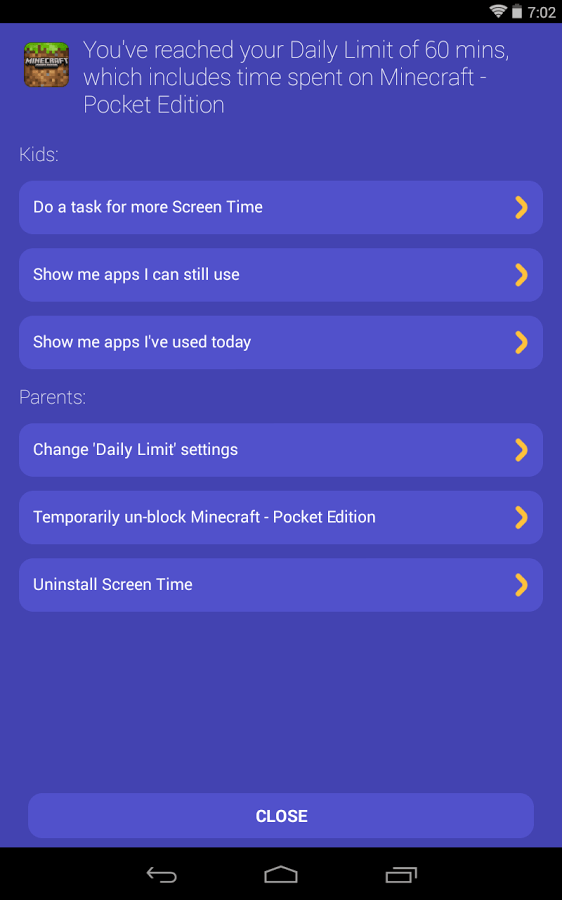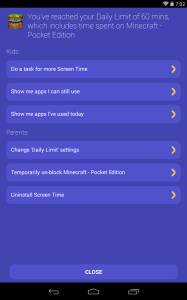 Once you set up your account you can add other devices.  So I was able to add both boys devices to my account with no problem.  Next I installed the Screen Time Remote app which lets me manage my account (and my kids' devices) via my phone.  It took me roughly 5 minutes to get everything set up.   Screen Time has a great feature called Remote Play/Pause.   Let's say it's dinner time and the boys are on their tablets, I can send them a message and pause access to their tablets.  I had their tablets set to block access before 7am.  My 5 yr old woke up early on Saturday and wanted to play on his tablet until we woke up.  I simply opened the Remote Control app and used the Remote Play feature to give him access for 20 minutes.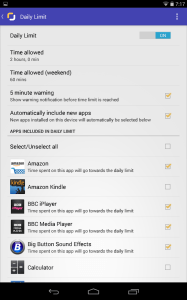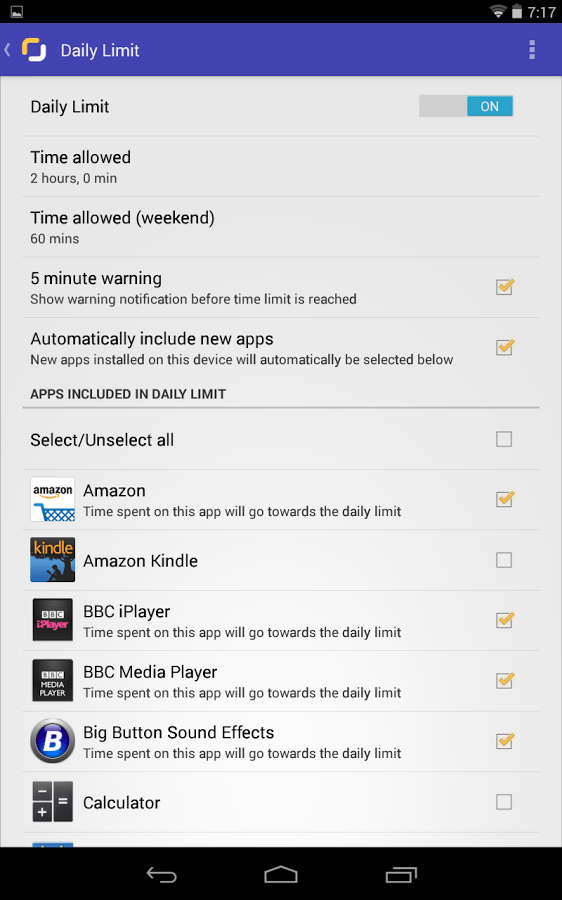 Next I added some tasks for my boys to complete.  I'm trying to get my 11 yr old to read more so I set a task that rewards him for reading 20 minutes.  I also set one up for playing outside.  The boys ran out of time and asked how to get more time…I told them to look at the tasks.  They chose to play outside.   It worked perfectly because they technically only needed to play for 30 minutes…they ended up playing for 3 hours.  I knew then that I was going to become a subscriber to the Screen Time service.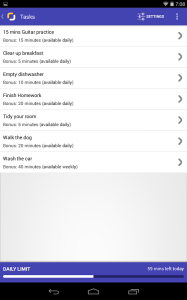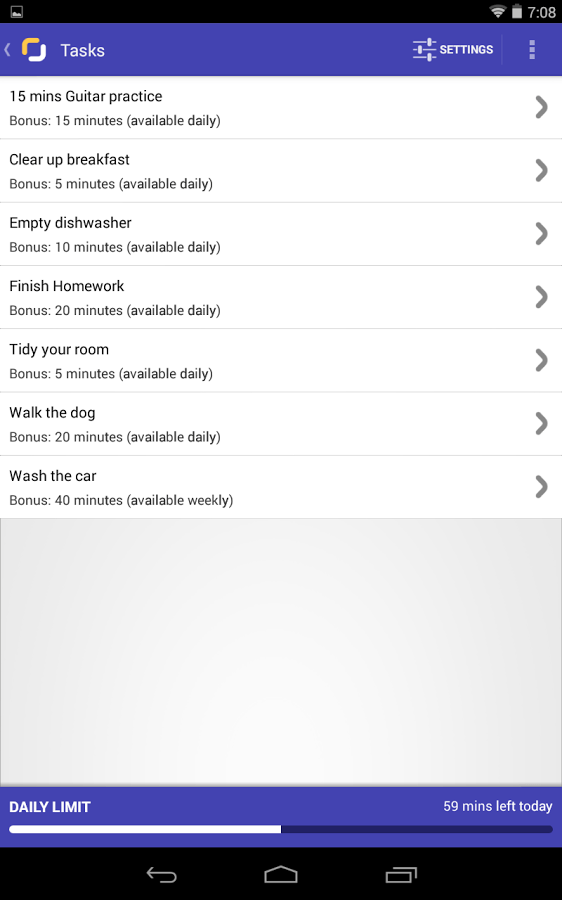 When you set up your account you get a 14 day free trial to try out the service.  After that you can choose between three different plans:
[tabs]
[tab title="Monthly Plan $3.99"]
Both parents can access Remote Control
Connect Up to 6 devices 
Tasks and chores feature
Remote Play/Pause
Remote Settings
Email Summary daily
[/tab]
[tab title="6 Month Plan $19.99"]
Remote Control access for both parents
Up to 6 connected children's devices
Tasks and chores
Remote Play and Pause
Remote Settings
Daily email summary
[/tab]
[tab title="Yearly Plan $39.99"]
Remote Control access for both parents
Up to 6 connected children's devices
Tasks and chores
Remote Play and Pause
Remote Settings
Daily email summary
[/tab]
[/tabs]
Those prices are very reasonable for the value you receive.  Check out the feature list for Screen Time below:
Daily Recurring Time Limit – Set a weekday limit and a weekend limit
Bedtime Blocker – You can block everything at bedtime or allow certain apps (reading)
Lights Out Control – Block all apps at a set time
School Time Control – Block apps during school time but allow educational apps
Block Kids Device Remotely – Send a message and time out your kid's device for a set time
Bonus Time For Completing Tasks – Add as many tasks as you like and choose the reward time
Real Time Monitor – Monitor searches and web history for your child as well as what apps they use most
Blocked Apps – block any apps completely and be alerted any time your kid installs a new app
Secured – Requires a passcode to uninstall
Works with Android 5.0 Lolipop – Fully compatible with Android 4 and 5
I cannot recommend Screen Time enough.  I have complete confidence that I know what my kids are doing on their tablets and how long they are on them.  In the short time I've been using Screen Time I have noticed my 5 year old playing more off of his tablet and my 11 year old is reading more.   So, if your kids have Android devices head on over to Screen Time and give them a try.