Because so many people have made the transition to smartphones with internet capabilities, businesses are being forced to turn their attention to the mobile market. Mobile devices can use websites designed for traditional computer browsers, but there are significant benefits to tailoring a website or creating an app with mobile technology in mind. For instance, websites designed for mobile use are often more sparse so that they load faster on these devices that may have slower connections. Someone who wants a termite inspection isn't likely to be in a patient mood.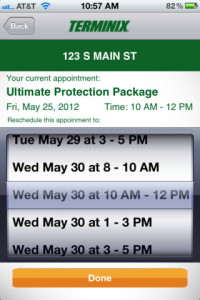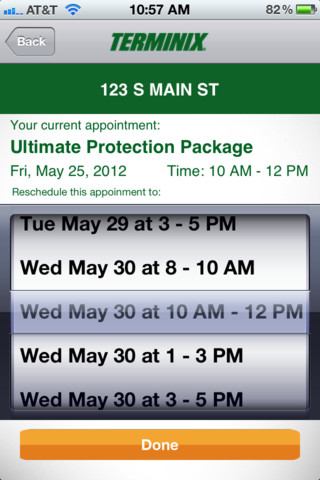 Like most businesses in the modern age, pest control agencies have long had a presence on social media. However, most of these social networking sites are free to join and use. Pest control companies, which are often small and family-owned, have been reluctant to spend money in the digital arena. This has meant that the industry as a whole has lagged behind others when it comes to rolling out apps, mobile websites, and other digital features.
Some of this has started to change, however. Terminix has launched a new app for tablet and phone users that allows people to schedule appointments with an exterminator and view their billing information as well as other simple tasks. For those who prefer to conduct their business online, or who are simply tired of phone trees and being put on hold, this app could be just the thing.
Aside from allowing users to schedule an appointment and view their billing records, the Terminix app also allows them to request urgent service, receive notifications relating to their scheduled appointments, and contact a representative via email. Right now, the Terminix app is primarily offered as an account management tool, but the company says that they intend for it to eventually offer all of the services currently available through their website. Terminix has prided itself on being a computer-literate pest control company for some time now, and their website offers many features.
If Terminix isn't careful, though, they are going to be passed up by other pest management companies. Apps are now available from other companies that offer features such as remote bug identification, where users submit a photograph of the bug to the company's entomologist on staff for an ID. The entomologist identifies the bug and then tells the app's user how the company can help them handle the problem.
People with bug problems want an exterminator to show up on their door now, not later. This is part of the reason that an app is such a good choice for the pest management sector. Instead of having to get on the phone and wind up on hold, or even turn on the computer and wait for it to boot up and then load a website, users can spend literally seconds shooting off a request for service on their mobile device. It reduces the time necessary, and this in turn reduces customer frustration.
Scheduling a termite inspection has never been easier than it is now with mobile apps. Users can request immediate service, schedule an appointment or contact a customer service representative using the Terminix app. The app will also remind users of their appointments so that these essential visits don't get forgotten.
Author Bio:
Rose McMillan is an experienced pest control professional, turned freelance writer. She has worked with several reputable pest control companies in the past, but now seeks to share her knowledge with others in the blogging world. Sources: Terminix Mobile App