I am my father-in-law's travel organizer.  He's retired and when he plans a trip he comes over and we go online and I book everything for him and print out the itineraries and receipts.   But if he had an Android device, iPhone, iPad, Blackberry, or Windows Phone 7 then he could manage all of these details using TripIt's mobile app.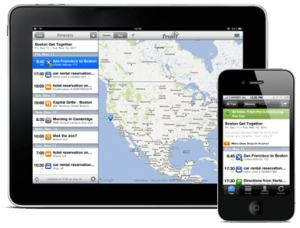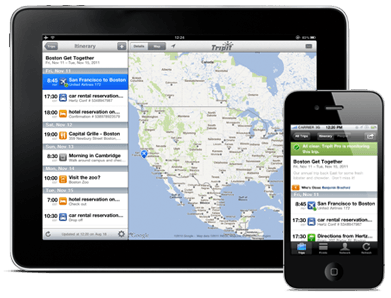 TripIt is an online travel itinerary and trip planner and they are also on most mobile platforms.  TripIt features three plan levels:  Free, Pro, and Business.  Each level targets a different user group and the pricing is reasonable  (at least in my opinion).
FREE
Automatically create itineraries by forwarding confirmation emails to TripIt
Create custom itineraries with maps, directions, notes, photos, recommendations, and more.
Access via web, mobile, calendar feeds, or social sites
Share itineraries with family, friends, and co-workers.
PRO
All features of the FREE account plus
Flight refund notifications
Mobile Alerts about flight delays, cancellations, and gate changes.
1 year membership to Hertz #1 club gold and regus gold.
Information on alternate flights to your destination, including flight status and open seats.
Auto sharing with people you add to your "Inner Circle"
BUSINESS
All the feature of the FREE account plus
Create trips for other other travelers
Travel dashboard lets you see status for all of your travelers
Team travel calendar and map
In looking at the features, the Free plan would be best suited for me and most anyone who does not fly on a regular basis.  It gives you the ability to organize your itineraries and share them.  But if you're someone who has a ton of frequent flyer miles because you're always traveling, then the Pro account is ideal.  It gives you many benefits that you are likely to use.  The mobile alerts stick out for me as a very useful feature for those with multiple connecting flights. And if you receive one refund because of TripIt then you've paid for the $49/year fee and then some.
The business plan is designed for office admins who schedule travel for employees or third parties.  For instance, a conference organizer may want it for managing the travel arrangements for all of the speakers.  If you have a number of sales people in your company, I could see the business plan being invaluable for managing and visualizing the travel status for your employees.  Pricing starts at $29/month for up to 10 users.
So, try out the free version and if you like it (I do so far) then maybe the Pro or Business plans should be an option for you.
Related articles