I sit here in sadness…a broken man…longing for what once was.  You see, I recently returned from our family vacation.  We had a glorious week in Fernandina Beach, Fl and I did not want to come back to reality.  On vacation we ate really good food most of the week.  We stayed at a really nice condo.  The pool was just downstairs.  The beach was a block away.  But now, I'm back to not having a pool and the beach is 30-40 minutes away.  I had a turkey sandwich and yogurt for lunch today (it was very good by the way).
However, I believe that I have found the perfect job.  Unfortunately it is taken…by a man who only wears t-shirts and pajama pants.  But I'm getting ahead of myself.  Let's start at the beginning.  Last year in Fernandina we took a 1 hour boat tour with Amelia River Cruises and had a great time.  This year we decided to take their 2 hour Cumberland Island tour.  This tour was supposed to give you a lot of history of the area and a close up view of Cumberland Island.  There were six of us total (our three kids and a friend of my daughter) and we were looking forward to the tour all week.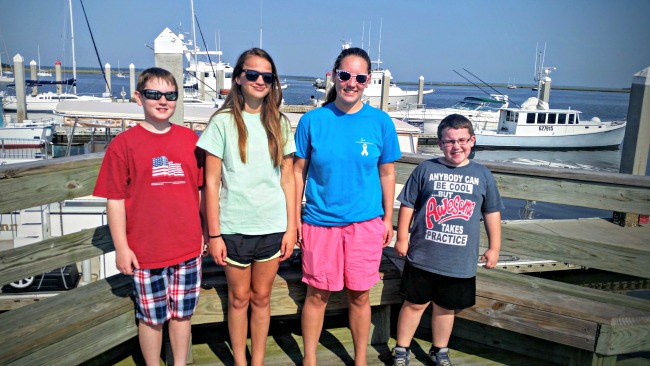 I was surprised that the boat was full once we boarded.  It was a Wednesday and school wasn't out for much of the area yet but the tour was booked full.  We got there early and were first in line.  This meant we could pick our seats.  My daughter and her friend decided they would sit in the front of the boat (with no cover) so they could tan….this proved to be a mistake as it was extremely hot that day.  My wife and I along with our two boys stayed under the cover and the shade.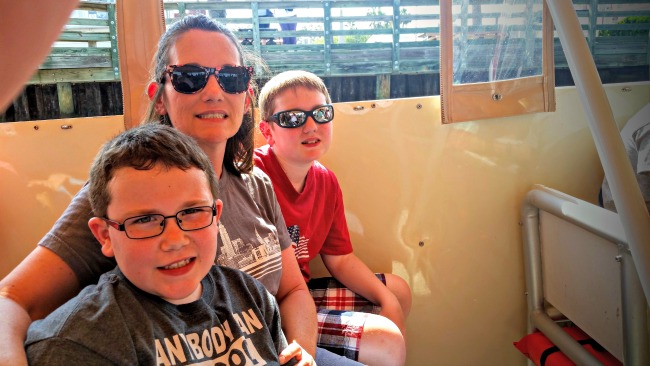 The Captain
Now we come to the star of this little blog post.  The captain of our boat was a man named Dave…oh wait…that's not his name…it's actually Pajama Dave.  Why do they call him Pajama Dave you may ask?  Well, all he wears are pajama pants (and T-shirts…maybe collared shirts sometimes).  So I look up at the captain's chair and see a man wearing flip flops, pajama pants, and a t-shirt.  He told how he was originally from New Jersey and had been in Florida for a very long time.   This guys has figured it out.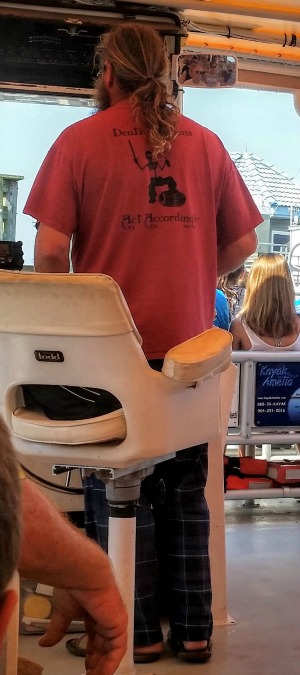 He went on to tell us that he owned a pajama shop in Fernandina and one in Key West.  This guy lives in Fernandina (an amazing town) and his job is to drive a boat all day and talk about the local history.  Oh, and he owns a pajama shop…two of them actually.  Let that sink in for a moment.    Wow…anyway…on to the tour.
The Tour
The tour itself was great and gave us a lot of information on the area.  Dave was very funny and knowledgeable.about the local history.  There is nothing worse than being on a tour with a boring tour guide.  Pajama Dave was anything but boring.  He had a great stories and anecdotes mixed in with his history.
He told us about the shrimping industry in the area and how it has been decimated by foreign farm raised shrimp.  He explained that many of the local restaurants still bought their shrimp from the local shrimpers.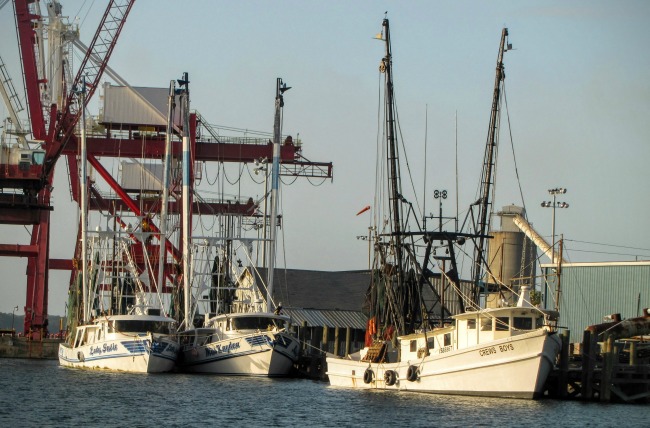 He also gave us some good info on Fort Clinch.  We actually visited Fort Clinch last year on our vacation and really enjoyed it.  I highly recommend you checking it out if you're in the area.  He gave us a lot of other tidbits about the area including the local boat ramp and dock as well as some of the houses visible from the boat.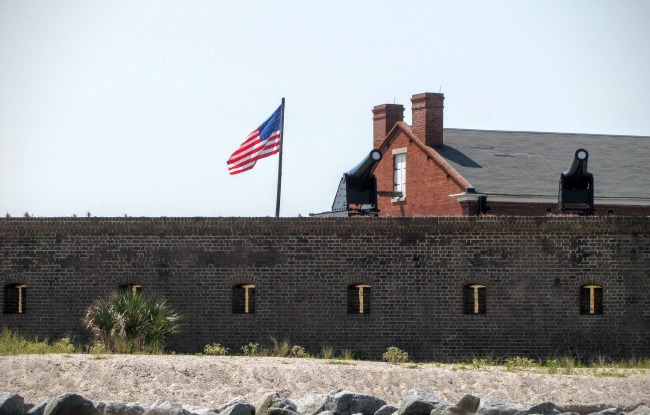 Lastly, we come to the main attraction…Cumberland Island.  Dave really knows his Cumberland Island history and it was fascinating to hear how it came to be purchased by the Carnegie family.  This island has so much history and interesting facts.  Dave did a great job of telling the entire story in an entertaining way.  If you like horses (like my 12 year old does) then you'll love the views of the wild horses on Cumberland Island.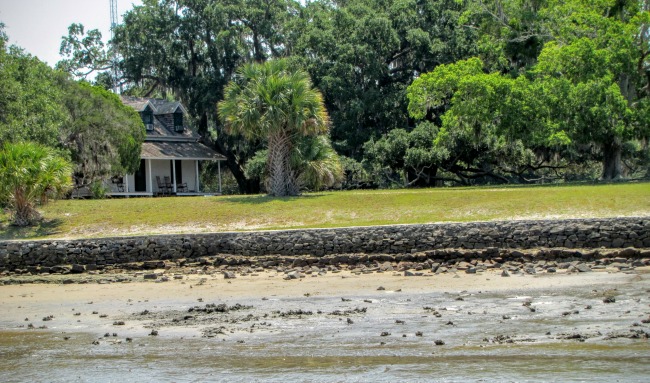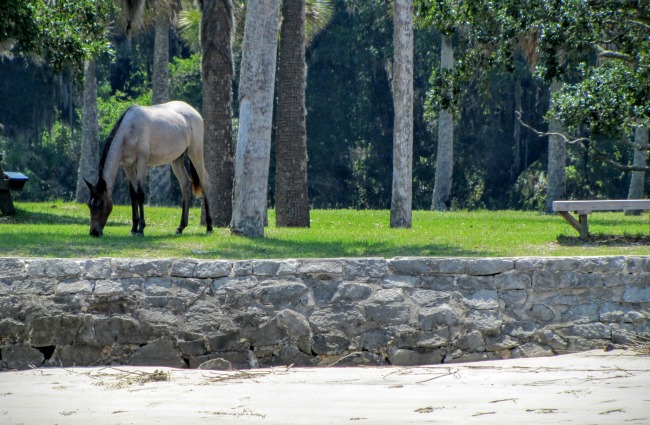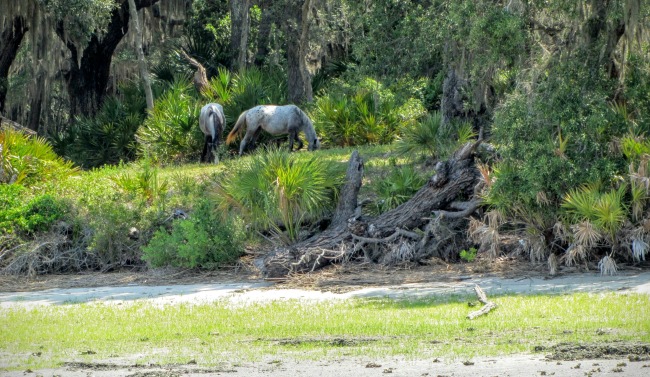 The tour was great and now I am left with this burning passion to wear only pajama pants.  I don't know if I can make that happen (my wife says no) but it's my new goal.  I have found the perfect job…but Pajama Dave beat me to it.
Thanks to Amelia River Cruises for a great tour.  If you're in the area and want a tour be sure to give them a call @ 904.261.9972