I was flipping through my regular Google search of "small business apps" tonight and I ran across something new that intrigued me.  Twitter Small Business Planner is a new app from Twitter.  It is obviously aimed at small business owners and it's goal is to help them plan their marketing activities.  Twitter released this app in time for the holidays since Christmas is such a huge time for small businesses.
I decided to install the app and check it out.  I installed the Twitter Small Business Planner to my Samsung Galaxy S5 and went through the quick setup process.   I then connected my Twitter and Facebook accounts.  It's interesting that the app did not require me to sign in with Twitter.
It's best to think of the Twitter Small Business Planner as a marketing organizer/trainer.  Now, if you are a seasoned social media expert then you may not get as much out of this app than the rest of us.  But honestly, the target audience is not social media experts but small business owners who are looking to maximize their exposure during the holiday season.
Lets look at what options you have in the menu.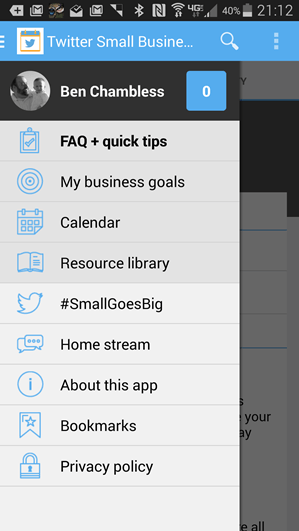 You'll notice the Calendar menu item.  This is where you will find four main item types:
Tweet suggestions
Twitter Ads strategies
Information on Twitter tools
Exclusive events
You can then add the items that seem most relevant to you to your own agenda which you can sync with your Calendar.  This is especially helpful if you pair it with a good todo app (like Todoist).
The Twitter Small Business Planner also features tons of articles, ebooks, tips, and stories from other business owners.  The real power of the app is the fact that all of this is gathered in one place for you.
You'll notice there is a menu section labeled "#SmallGoesBig".  Twitter small business has partnered with Hootsuite, Google Small Business Community, Square, Hubspot, and SproutSocial to host a series of educational events for small to medium sized business owners.   The menu item in Twitter Small Business Planner gives you direct access to tweets using the hashtag.
To sum up, Twitter Small Business Planner gives a lot of information and tips for small business owners.  I'm sure that Twitter is hoping to use this to push it's ad service but it's not in your face and there is tons of useful info in the app that makes it worth it.
If you have a small business check it out using the links below.