After a one year hiatus, we returned to our favorite summer vacation spot…Amelia Island and the city of Fernandina Beach, Florida.  We have been coming here for 4 or 5 years and it gets better each time.  As far as beach towns go, it's the most laid back…easy going place you'll visit.  We try to find something unique to do each time we visit Amelia Island.  Two years ago we took a two hour boat tour and that was a lot of fun.
This year we decided to do a photo scavenger hunt.  It was my wife, my 9 year old and myself against the teenagers (my 14 year old son, my 18 year old daughter and her friend from college).  This was a fun diversion but it wasn't quite enough for that WOW factor we look for on vacation.  Anyway, after we checked into the condo we hit our favorite pizza place for dinner and then headed downtown to look at the shops (and collect items for the scavenger hunt).  It was here that we realized that it was HOT…I mean REALLY REALLY HOT.  I have lived in the south my entire life so I'm used to the humidity and the heat but this year it seems much worse.
So, the next day we headed over to Amelia Island Escape Rooms to try our hands at some adventure.We had never tried an escape room before (except for my 14 year old) so this was all new to us and we had no idea what to expect.  I personally was a little skeptical.  I was thinking it would be a little cheesy with really easy puzzles and would be a fun hour together….well…keep reading to see if I was right.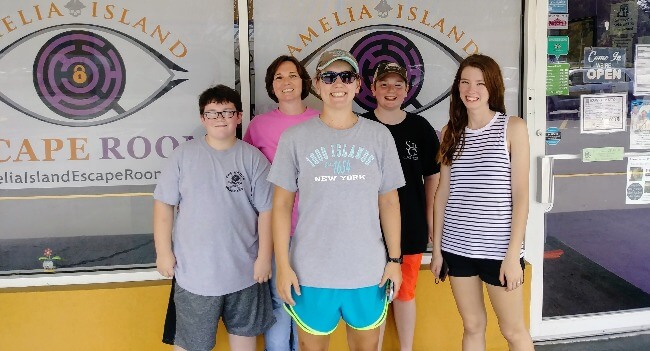 We arrived at the location (after finding a Geocache right outside their door) and were greeted by several of the staff. They were extremely friendly and answered all of our questions.  And guess what…they have air conditioning…it was GLORIOUS!!
So once our time came, we met Matt, our game master,  and he showed us an intro video giving us some of the rules and regulations of the escape room experience.  It was mostly common sense stuff…but these days you have to say these things.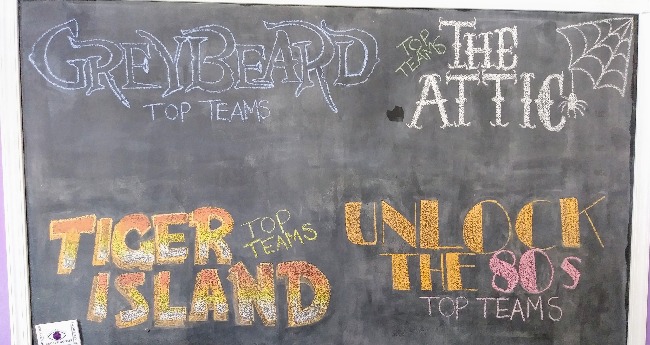 Amelia Island Escape Rooms has 4 rooms to choose from currently.  They are working on two more room which will give them a total of 6 rooms to choose from.  Currently they offer Greybeards Treasure (Pirate theme), The Creighton House Attic (creepy), Tiger Island, and Unlock The 80's (solve the mystery).  I personally wanted to do the 80's room…since that's the era I grew up in but my kids hear 80's and they collectively groan…so I was overruled.
Therefore we decided to attempt to escape Greybeard's Treasure room.  For this room, you have been captured by Greybeard and are awaiting for him to come make you walk the plank.  You have to escape and find his treasure before your time runs out.  We were then shackled together in pairs…yes…real shackles.  The two college girls were together, my wife with our 14 year old, and me with the 9 year old.  Needless to say, going to the restroom before this point is a good idea.
Now, we go into the room and Matt points our some last minute details.  I won't give away any details of the room because I don't want to ruin it for anyone.  But I like the fact that they have several items labeled "Not part of the game" so that you don't waste your time on them.  There is a tv screen in the room where the game master can communicate with you.  He is watching via cameras the entire time and helps you out with 3 hints that you have available to you.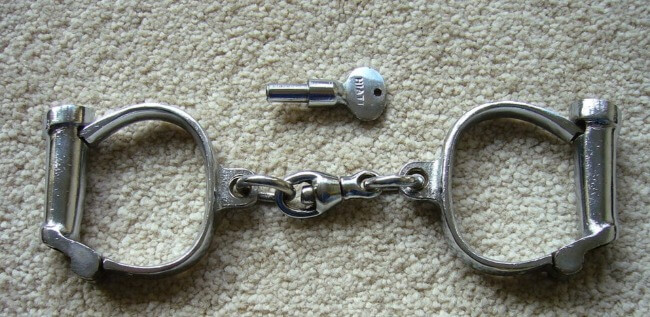 At this point, Matt left the room and our time began.  We separated and worked in groups of two (as suggested by Matt) and this made a huge difference.  We were able to tackle several tasks at once instead of all focusing on one.  Now, remember I was shackled to my 9 year old….have you ever been shackled to a 9 year old?  They don't have the longest attention span.  We would work on a puzzle for maybe 20 seconds and he would say "this isn't working, let's find something else".
As we proceeded, Matt gave us many free hints in addition to our 3 included hints.  I honestly think he felt sorry for us.  I would think that he has a fun/exasperating job.  Just imagine watching people trying to solve these puzzles….being SO close sometimes and so far away other times.  My guess is that some of them are very bright but others (like us) don't have a clue sometimes.
As we were trying to solve the puzzles, it hit me that these were not cheesy simple puzzles like I thought they were going to be.  They were pretty complex and extremely fun to solve (or TRY to solve).  And even though you aren't "really" locked in the room you get the sense of urgency as the clock ticks down.  We made it our with just 5 minutes to spare (did I mention that we had a LOT of hints).  I think Matt should be considered part of our team.
I cannot stress enough how much fun this was…It's entirely possible that I may be an escape room addict now.  Usually we do activities that either the teenagers enjoy or the little one.  It's very rare to find something that everyone enjoys.  This was one of those times.  My teenagers had a blast and were very proud that we were able to escape.  My 9 year old loved the pirate theme and thought that it was so cool that we "broke" out of the shackles (with a key).
I was speaking with one of the owners and she mentioned that they loved doing escape rooms and decided to start their own and that's how Amelia Island Escape Rooms came to be.  You can tell that this was created by someone who genuinely loves escape rooms and not just someone looking to make a buck…their love for the game shows.
If you are anywhere near Amelia Island (Northeast Florida) then I highly recommend you visit them.  Even if you've never tried an escape room (like us) you will be glad you tried it.  Give them a call at  904-775-5083.